Newspaper headlines: 'Missing man' Johnson and a High Street 'bloodbath'
By BBC News
Staff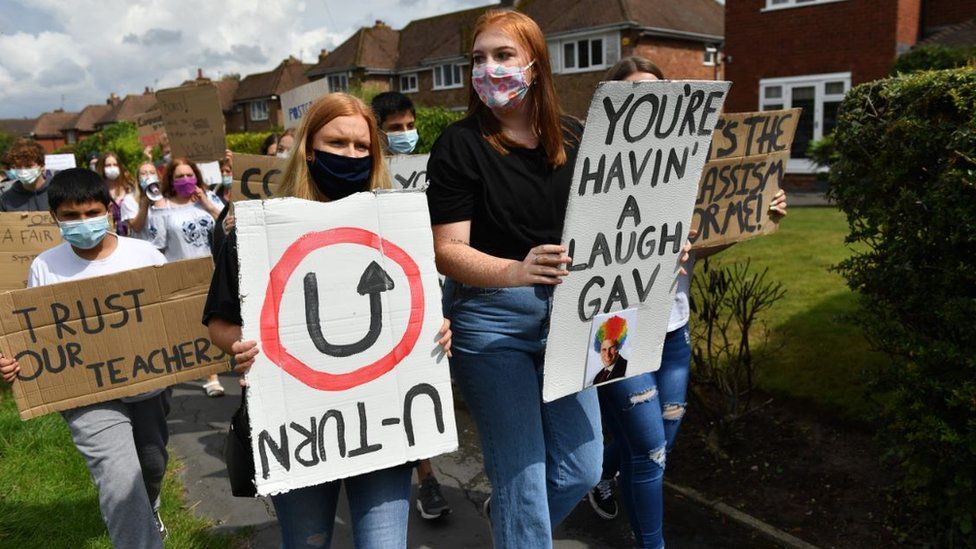 There is no respite for the education secretary, who faces further criticism for his handling of the exams U-turn.
They say they've added details of the Samaritans to their emails after several applicants threatened self-harm. An algorithm may be to blame, they say, but "it's humans having to clear up the mess".
It argues that children must go back to school next month and stay there throughout the academic year.
It says a "gaping chasm" between rich and poor pupils passing key GCSEs existed even before the pandemic struck.
The paper points to a report from the charity Teach First which shows that in 2019 just 45% of disadvantaged children passed their maths and English GCSEs compared with 72% of their richer classmates.
The paper warns that the concentration of gains in Big Tech firms - including Apple, Amazon and Microsoft - has prompted fears among some investors that the rally might be built on shaky foundations.
The New York Times says investors are buoyed by signs of the coronavirus abating.
Harry's mother, Charlotte Charles, has issued the plea a year after the death of her son.
In its leader column, the paper calls on the foreign secretary to suspend deportations from the UK to the US until Anne Sacoolas is persuaded or required to appear in court.
Sales of candles, the paper says, have increased since March.
And if you're striving for a whiff of authenticity it recommends a candle called The Festival, which promises the smell of cut grass, burger vans, cannabis smoke and the "merest shimmer of distant Portaloo".