Newspaper headlines: UK goes 'our own Huawei' and masks in the office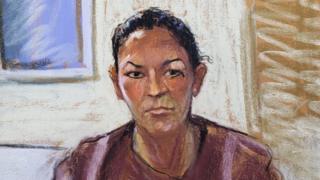 The government's U-turn on Huawei is the lead for the Financial Times, the Guardian, the Metro and the i, which has the headline: "China crisis looms as UK pulls the plug on Huawei."
In the FT's view, the decision to deny the Chinese company a role in Britain's 5G network is the correct one and is based on changing circumstances - but it will come at a substantial cost, both to the mobile telecoms industry and consumers.
For the Times, one uncertainty is how Beijing will retaliate. It says that at a time when Britain is withdrawing from the world's biggest trading block, any loss of access to what has for many years been the world's fastest growing major economy could further weaken its global position.
A number of papers report that the chancellor has ordered a review of capital gains tax - prompting fears, the Telegraph says, of a raid on the wealthy to help pay for the cost of coronavirus. The paper says Rishi Sunak has asked officials to consider how exemptions from the tax - which is paid on the profits from the sale of property and investments - could be reformed or scrapped. The Times, which leads on the story, reports that he may be considering raising the historically low rates of capital gains tax to the same levels as income tax.
Several papers carry stories from the US court hearing of British socialite Ghislaine Maxwell, who is accused of recruiting girls for the disgraced financier Jeffrey Epstein. On its front page, the Guardian carries a sketch of her appearance by video link, looking drawn and with her hair pulled back. Ms Maxwell, who was arrested in New Hampshire earlier this month, was denied bail and faces a year long wait before her case is heard.
For its main story, the Telegraph says it has learnt that face coverings could soon be recommended in all public places, including offices and other workplaces. According to the paper, officials have begun private talks with groups representing major employers amid growing fears over the prospect of a second wave of Covid-19 infections.
And the government's decision to make the wearing of face masks compulsory in shops in England - they are already mandatory in Scotland - prompts many papers to consider how masks can make us safe as well as chic.
The Times says we can expect no end of sartorial spin as we attempt to make them look stylish. The Mirror has pictures of celebrities "leading the way" with what it calls plain colours to bright gingham and totally wild styles. Whatever your style, the Mail says, designers are using their skills to stitch masks in an array of fabrics, vibrant colours and patterns. It reports that one Italian brand is offering a "trikini" - a mask and bikini set.
Sign up for a morning briefing direct to your inbox