Newspaper headlines: 'Boris is a fighter' and 'PM power vacuum fears'
By BBC News
Staff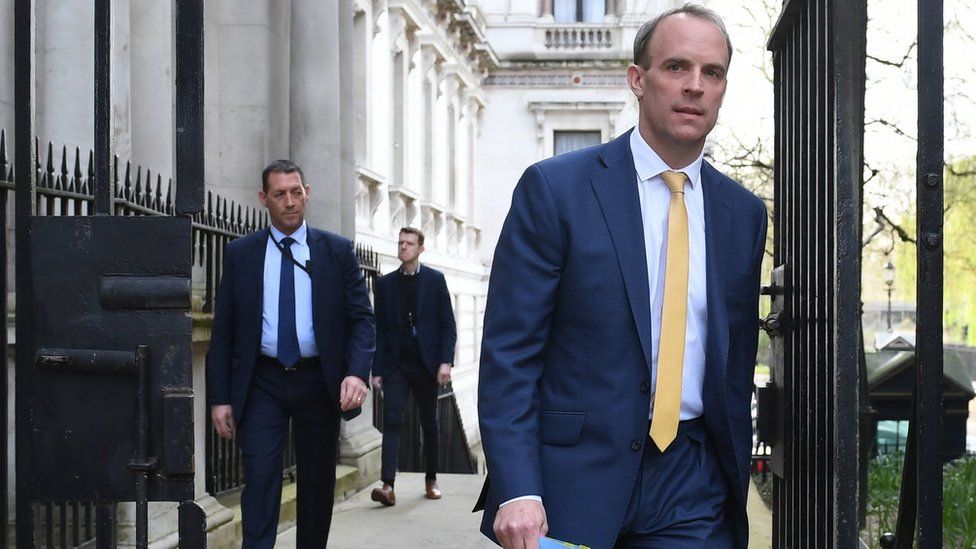 Fears of a power vacuum at the top of government - as Boris Johnson continues his stay in intensive care - feature prominently on Wednesday's newspaper front pages.
The Daily Telegraph says the prime minister's de facto deputy Dominic Raab is facing a situation "without recent historical precedent" - and urgent questions about his authority to dictate any changes in the government's response to the coronavirus crisis.
Cabinet sources tell the paper that Mr Johnson will still take major decisions as long as he remains able to express his wishes, but that in his absence, senior ministers have "differing views" on whether to extend the current lockdown next week.
The Sun quotes another unnamed government figure who suggests Mr Raab is "heavily constrained" as the prime minister's stand-in and needs "collective responsibility on anything substantial", such as the approval of military action.
For the Guardian, the UK is facing a "crisis of authority" at a time when public approval for extending social distancing measures will need to be won and maintained.
"The weeks to come", it goes on in an editorial, "will require some of the most fraught political calls any peacetime government has had to make".
Several papers carry Dominic Raab's comments that the prime minister is a "fighter" who will "pull through".
Meanwhile, 16 NHS staff at the George Eliot Hospital in Warwickshire - dressed in plastic aprons and surgical masks - are pictured on the front of the Daily Express, holding a homemade "get well soon" sign for Mr Johnson.
Elsewhere, according to the Times, British biotech companies could soon be asked to work together to produce a finger-prick antibody test that detects whether someone has had coronavirus, providing a possible route out of the lockdown.
The paper suggests that ministers are turning away from the idea of sourcing such a test abroad, after other products ordered and evaluated by the government proved unreliable.
The ultimate goal, the Times says, is to have a kit accurate enough to allow millions of people to test themselves at home, generating a result within a few minutes.
A survey of lupus sufferers across Europe found that up to 60% of patients were not able to buy hydroxychloroquine in chemists in recent weeks, even though there is no robust evidence it can treat coronavirus. India has already restricted exports of the drug.
The French sculptor, Francois-Xavier Lalanne, crafted the bath, toilet and bidet set in the shape of a mother hippopotamus and two babies - even building a vanity unit into the mother's mouth.
Sotheby's - which is selling the lot in Paris this summer - expects it to fetch up to £2.2m. The Mail says the suite is also in full working order, providing the perfect opportunity for a wealthy, art-loving bidder to wallow in luxury.