Newspaper headlines: 'Sickening abuse' and 'overzealous' police warning
By BBC News
Staff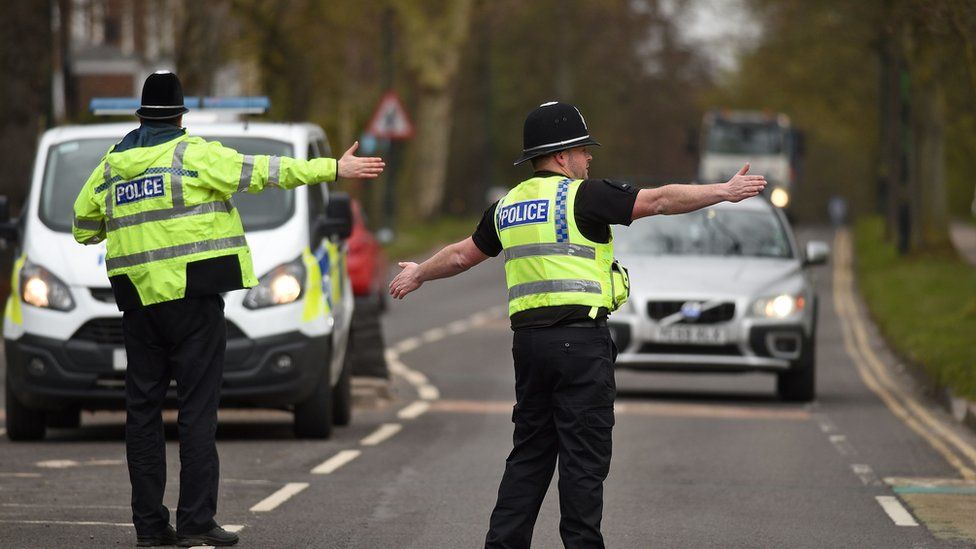 The Guardian takes police forces to task for the way some officers have deployed new powers aimed at curbing the spread of coronavirus.
Citing the case of the dog walkers videoed during a stroll in the Peak District, the paper says "preventive measures should stop short of public shaming of individuals - particularly on social media platforms".
Neither should officers be deciding what constitutes exercise or which goods can be sold, the paper believes.
The Sun says "a few idiots deserve fines for blatantly flouting the restrictions, but a few officious cops need reining in, too".
The paper thinks police "have no business feeling anyone's collar for buying "non-essential' items" and urges officers to use their common sense.
The Daily Mail's Richard Littlejohn complains that after another couple of weeks of lockdown, eating Easter eggs will be one of the "few innocent pleasures left to us".
"Are we going to see balaclavad armed response teams abseiling down the sides of buildings, bursting through windows and snatching chocolate bunnies from the trembling hands of terrified children and OAPs?" he asks.
The Daily Telegraph calls the powers "draconian". But it says there have also been examples of the public behaving in a thoughtless and even reckless way, such as the driver stopped in a park in Stevenage in Hertfordshire who told officers he was playing Pokemon Go.
The request comes from Energy UK, the trade body for electricity and gas suppliers.
Utility companies say some customers have cancelled direct debit payments and it's feared that if there's a surge in bad debts, many energy firms could be forced out of business.
Several back pages report on the embarrassment of the Premier League player, Jack Grealish.
The Aston Villa star was reported to have crashed his Range Rover in Solihull on the way back from a party on Sunday morning, hours after putting out a video message on social media urging fans to stay at home and observe social distancing.
The Times says he'll be fined around £150,000 by his club.
He's now made a new video message apologising, saying he was stupid to go to a friend's and that he'll be staying at home and following the rules in future.
As if their jobs weren't difficult enough, nurses and paramedics are now reported to be targets for abuse.
The Metro says there's been a surge in such cases. The Daily Express calls for tougher sentences, under the headline "get tough on cowards abusing NHS heroes".
"Give them all a medal" is the front-page headline in the Daily Mirror.
The paper says support is growing for its campaign for the heroism of NHS staff to be recognised with a form of campaign medal, and that the prime minister himself has said we own them a debt of gratitude.