Newspaper headlines: 'Stay home alone to save your life'
By BBC News
Staff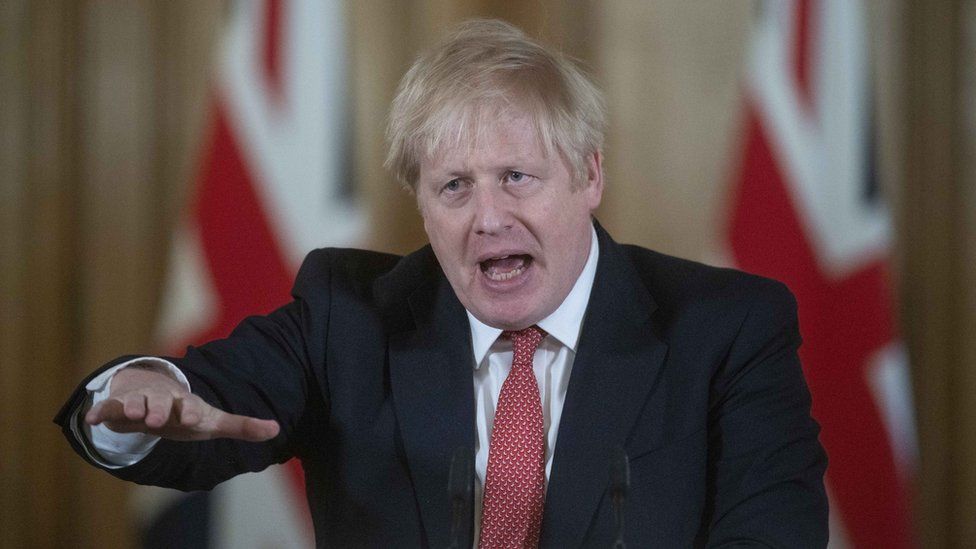 The Sunday Times says the "blunt" language in Prime Minister Boris Johnson's latest warning about coronavirus is evidence the government doesn't think the public is taking the threat the epidemic poses seriously enough.
An unnamed cabinet member spells out the gravity of the situation, telling the paper: "We can see the clouds... a storm is coming... the next five days will be the real test of whether we can cope."
The language used by doctors who've spoken to the Mail on Sunday is equally ominous.
They are warning, the paper says, of a "tsunami" of severely ill patients that is set to "engulf" them.
The paper highlights "chronic shortages" of basic equipment and describes how vets have been "begged" to hand over ventilators normally used for animals.
The Observer reports that "key military officials" are to help ensure food and medicines reach vulnerable people isolated at home.
The aim, the paper says, is to protect more than a million individuals most at risk of being hospitalised. It marks the "latest extraordinary action to tackle the crisis", the paper adds.
Beneath a picture of a line of shoppers queuing to get into a supermarket, the headline for the Independent online newspaper is "Food banks in crisis amid panic buying spree".
It reports that providers are being hit by the dual impact of "soaring demand" and "dwindling supplies".
The website says people have been fishing donations out of food bank deposit points in supermarkets. The consequence, it warns, is "real hunger" on a scale that hasn't been seen for decades.
It is the absence of people that makes the image on the front page of the Sunday Telegraph striking. It shows a view of Westminster Bridge, looking towards the Houses of Parliament, without a single person in sight. "Life in lockdown begins", is the caption.
The Sunday Express is one of several papers to suggest the Queen is to follow up the statement she issued several days ago with what it calls a "historic address to lift morale during the crisis".
It says Downing Street has revealed talks have taken place with the palace about what it describes as a "royal intervention". It would be only the fourth special address of the Queen's 68-year reign, the Sunday Times notes, and the first since the eve of her mother's funeral, in 2002.
Finally, what do you do when the shops have sold out of eggs?
It reports that live poultry breeders across the UK have "seen their barns stripped of birds" over the past seven days as people look to get round egg shortages - and possibly also occupy children now schools are closed.
One breeder in Bristol tells the paper: "I've been selling chickens for 12 years and I've never seen anything like it."