Newspaper headlines: 'Pull together' for elderly as virus sees banks act
By BBC News
Staff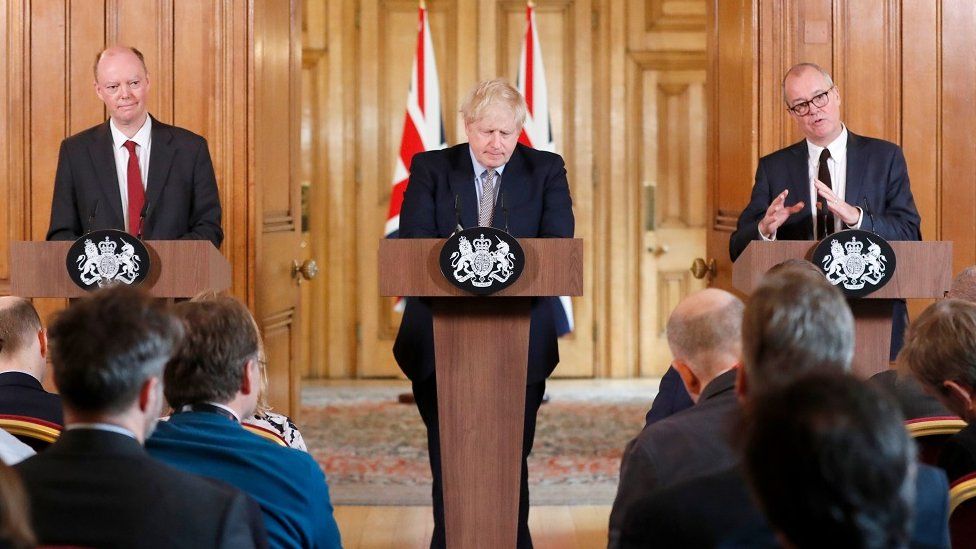 The focus for many of today's papers is on protecting the elderly from coronavirus, after it emerged over the weekend that over-70s would be asked - at some point - to self-isolate.
The Daily Mail calls on Britons to "pull together" to help them, reporting that charities are urging people to "get in touch with neighbours" and that hundreds of local help groups have sprung up. The Daily Mirror warns that a long period of isolation will leave elderly people lonely, and says ministers need to explain what support will be put in place for those affected.
The Daily Express wants plans to scrap free TV licences for all pensioners to be shelved, saying it would be "scandalous" if the change took place as scheduled in June, at the predicted height of the outbreak. The Daily Telegraph reports that asking Netflix to stream programmes for free for the elderly and food delivery companies to temporarily waive their fees are among ideas being discussed in government.
Several papers say they have seen a briefing document from Public Health England (PHE), which predicts the coronavirus outbreak could put nearly eight million people in hospital.
The Express says 80% of people are likely to be infected. The Mirror reports that the document warns the crisis will last until spring 2021, and says it's "the first time health chiefs have admitted what many had feared".
Reporting on the announcement that the government will hold daily televised press conferences, the Guardian notes that Prime Minister Boris Johnson has "shown little enthusiasm for exposing himself to media scrutiny" for most of his time in office - and that he is taking the action after calls for the public to be given much clearer guidance.
In its editorial, the Times says the "piecemeal" way that the plans for combating the virus have emerged has "created uncertainty".
The Telegraph argues that the government has followed scientific advice, but says it is being "worn down" by criticism from within. The Sun assures its readers that Prof Chris Whitty, the UK's chief medical adviser, and Sir Patrick Vallance, chief scientific adviser, are "eminent doctors ideally equipped to deal with the pandemic".
The Telegraph calls the Federal Reserve's decision "drastic" and says the UK needs to do more than the measures outlined in last week's Budget if good businesses are to be saved.
The Guardian says that, according to Iran's ambassador to the UK, the British government is taking a "new approach" to the case of Nazanin Zaghari-Ratcliffe, the British-Iranian woman held on spying charges which she denies.
Hamid Baeidinejad has said the two countries are in talks about how to settle a £400m debt owed by London to Tehran - although the paper says "neither side will openly acknowledge" any link to Mrs Zaghari-Ratcliffe.