Newspaper headlines: Harry's 'sadness' and 'duke and duchess of Netflix'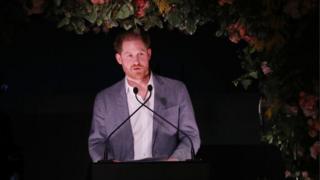 The front pages of the papers are once again dominated by the Duke and Duchess of Sussex's withdrawal from front-line royal duties, with the late editions reflecting Prince Harry's first public speech about the issue on Sunday night.
The Times focuses on him speaking of his sadness at the affair's outcome, while the Daily Mirror highlights his assertion that he loves the UK, but was left with no choice than to relocate his family to Canada.
The Daily Telegraph reports that Prince Charles will fund the couple from his own private investments, but that the arrangement will be reviewed in a year.
The Daily Mail claims Harry and Meghan plan to set up a production company to produce what it calls "documentaries on 'worthy' issues".
The paper also quotes a senior executive at Netflix, who says the company would like to work with them.
The ongoing story also features in a number of publications around the world.
The New York Post calls it the "Great British Break Off", while the West Australian goes with the headline: "The royal formerly known as prince".
Cervical cancer vaccine
The Guardian reports claims that cervical cancer could be wiped out in England, thanks to a new vaccine and screening programme.
The NHS will now regularly examine every woman for HPV - the virus which causes most cases.
An analysis piece by the paper's science editor Ian Sample states that the disease is entirely avoidable, but that unfounded fears over the safety of vaccines could hinder efforts to stamp it out.
River swimming
The Times looks at a campaign to get a river in West Yorkshire designated as the country's first to be suitable for swimming.
The River Wharfe attracted thousands of people to bathe during last summer's heatwave, but people living nearby have told the paper that levels of bacteria found in the water regularly reach dangerous levels due to problems with a nearby sewage treatment plant.
They hope their application for official bathing status will ensure it remains free from pollution, as it would compel the Environment Agency to run tests on the water every week during the summer.
An editorial in the paper applauds the campaign, and urges the government to do more to ensure other rivers can benefit from the same protections.