Newspaper headlines: Corbyn's Brexit 'neutrality' and the 'Duke of nothing'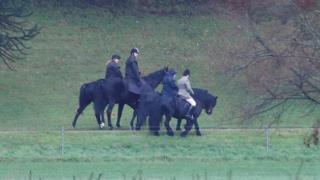 Most of the papers reflect on last night's special election edition of BBC Question Time.
And if you're looking for a winner, the Telegraph declares it was the punters in the studio.
The i says the scrutiny to which the four party leaders were subjected was a breath of fresh air in this campaign, and it helped that the audience were switched on, and in some cases, pretty angry.
Quentin Letts in the Times says it was a political version of the X Factor, although he acknowledges that BBC ratings managers must have been beating their heads in despair that the SNP's Nicola Sturgeon was second up in the two-hour show.
The tempo dropped like a shot partridge, he says.
A week on from the Duke of York's much-criticised television interview, the headlines surrounding Prince Andrew have not improved.
The i newspaper labels him the "Duke of nothing".
The Daily Express claims the last vestiges of his life as a working member of the Royal Family were collapsing around him after he reportedly parted company with his flagship business project, Pitch@Palace, because of the controversy surrounding his links to the convicted sex offender Jeffrey Epstein.
Several papers carry pictures of the prince out horse-riding with the Queen in the grounds of Windsor Castle - a scene interpreted by the Daily Mail and the Mirror as a defiant show of support by the monarch.
Get news from the BBC in your inbox, each weekday morning
"End of GP home visit" is the Daily Mail's front-page headline after family doctors voted to scrap what has been a cornerstone of general practice for decades.
They argue that going to see patients is too time-consuming.
The paper says doctors will now lobby the NHS to abandon their contractual obligation to carry out home visits, leaving paramedics or other health professionals to do them instead.
Finally, the Times says experts have debunked the idea that one dog year is equivalent to seven for a human.
Instead, research suggests that Labradors, for example, hurtle into middle age before they reach their third birthday, but that a dog's rate of ageing slows over time.