Newspaper headlines: 'Crunch' Brexit talks amid fresh hope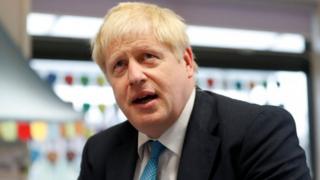 Even though details of Boris Johnson's latest proposals for Brexit are not officially known, several of the papers believe they have worked them out.
The Daily Mail says it has been told by sources that the prime minister has, in effect, agreed to scrap the customs border between Northern Ireland and the Irish Republic - replacing it with one in the Irish Sea.
The paper uses the example of a fridge, claiming that an exporter from the British mainland would have to pay the required EU tariff if it was heading to Northern Ireland.
That would mean that if the fridge was destined for the Irish Republic or the rest of the EU then it could simply continue its journey.
But if it was staying in Northern Ireland, the importer there would receive a rebate if the UK's tariff for fridges was lower than that of the EU's.
A picture of Richard Ratcliffe, the husband of the jailed British-Iranian woman, Nazanin Zaghari-Ratcliffe, being reunited with his five-year-old daughter, Gabriella, is on many of the front pages.
The two are seen hugging after the girl flew home from Iran, where she had been living with her grandparents.
The Sun reports the prime minster is facing a Conservative revolt because he is accused of going back on a promise to end investigations into troops who served in Northern Ireland.
Mr Johnson vowed to end unfair prosecutions during his leadership campaign, and Defence Secretary Ben Wallace is said to have brandished the pledge during a cabinet meeting when he learned the law would not be in Monday's Queen Speech.
The Daily Telegraph says the planned amnesty had been jettisoned in favour of laws on sustainable cat litter. Number 10 tells the paper it is determined to legislate on the issue of legacy prosecutions.
The Daily Mail leads with a claim from the head of NHS England that rumours spread outside school gates have led to a lower take-up of childhood vaccinations. Simon Stevens tells the paper internet firms need to do more to stamp out fake health news.
A spat between the man who edited the Daily Mail for 26 years, Paul Dacre, and his successor, Geordie Greig makes the front page of one of its rivals.
The Financial Times reports that Mr Dacre has responded angrily to a claim made by his replacement that the paper's softer tone had brought back advertisers.
Get news from the BBC in your inbox, each weekday morning
In a letter to the Financial Times, he accuses Mr Greig of being "economic" with the truth and defends his long tenure, saying he had made billions in profit.
The article points out the current editor loathes his predecessor. Daily Mail Group Media says revenue from new advertisers in the past year has more than offset those it has lost.