Newspaper headlines: Brexit deal 'impossible' as 'blame game' begins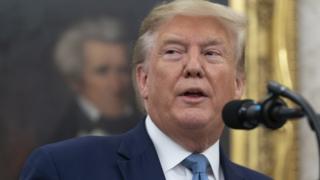 The Guardian is one of a number of papers to focus on the fall-out from Donald Trump's decision to pull American troops out of northern Syria.
In its editorial column, the paper describes the decision, thereby giving Turkey the opportunity to attack Kurdish forces there, as "reckless and dangerous". 
It argues that in a worst-case scenario the move could lead to what it calls a "new humanitarian catastrophe" and the resurgence of the Islamic State group.
According to the Daily Telegraph, Mr Trump "risks sending dangerously confusing signals in a volatile area, where any conflict can have much wider geopolitical implications". 
And it points out the Kurds "have lost thousands of fighters removing the threat posed by Islamic State" - and therefore deserve to be protected from the threat now posed to them by the Turkish military.
The lead in the Daily Mail is about a campaign its running for changes to the funding of dementia care. 
The paper is angered by the number of elderly sufferers who have to sell their homes so they can pay to be looked after. 
It has a front page picture of a petition with more than 350,000 signatures being delivered to No 10.
Get news from the BBC in your inbox, each weekday morning
There are details in the Times of a row that's broken out about cricket sponsorship. 
It reports that the head of the NHS in England, Simon Stevens, has criticised the sport's governing body, the ECB, for allowing the shirts of teams competing in the new Hundred tournament to be used to advertise snacks such as crisps and popcorn. 
An ECB spokesman is quoted as saying snack brands have a "long history of partnering with sports".
Finally, the Sun reveals that the ITV show Dancing On Ice is to make history by becoming the first television dance competition to feature an all-male couple. 
The paper's showbusiness editor, Simon Boyle, suggests the producers of Strictly Come Dancing on the BBC "missed a trick" by not doing the same thing in the current series.