Newspaper headlines: 'Hulk' Johnson heads to Luxembourg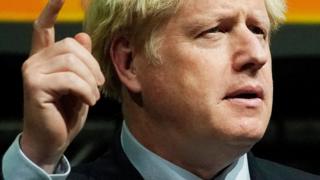 Prime Minister Boris Johnson's comments comparing himself to the Incredible Hulk in his determination to get Britain out of the EU by the end of next month fires the imagination of the cartoonists and headline writers.
The Sun describes Monday's talks between the prime minister and European Commission President Jean-Claude Juncker, as a showdown featuring "the Hulk versus Le Sulk".
But the Guardian cartoon sees it the other way round, showing Mr Johnson rejecting the outstretched hands of EU officials and dubbing him "the Incredible Sulk" .
The Daily Telegraph says the meeting should provide the first clear signs of whether a Brexit deal is possible by 31 October.
It suggests that since Mr Johnson is adamant that he wants a deal, it is incumbent upon him to indicate how he thinks he can get one.
But - the paper adds - it will equally become apparent on Monday whether there is complete intransigence at the top of the EU that makes further discussion pointless.
The Daily Mail says an investigation by the paper has revealed that hundreds of thousands of crimes are being written off by police within only 24 hours of being reported.
According to the paper, these include more than half of thefts and burglaries. It says the Metropolitan Police drops 36% of new cases inside a day, while the figure for Greater Manchester Police is 27%.
The practice has become increasingly widespread as overstretched forces struggle to prioritise their resources, the paper explains. However, its leader column says it betrays a managerial approach to crime that has a human cost.
The Daily Mirror reports that thousands of monkeys in Africa are being killed and smuggled into Britain, Europe and the US as illegal bushmeat.
According to the paper, they are served as a delicacy at British weddings and sold secretly as "dry-meat" at markets.
A primate scientist tells the paper the trade is not only devastating to wildlife, but also has the potential to be dangerous for humans too, through the spread of diseases such as Ebola.
University students are taking out payday loans to fund holidays, gym memberships and healthy eating, according to figures published in the Telegraph.
It says research by the price comparison website, Moneysupermarket, has shown a big increase in the number of students taking out the costly short-term loans to help fund their lifestyles.
The study found that some students were spending their entire maintenance loan - up to £3,000 per term - in just five weeks.
Finally, the sports writers seem satisfied with the result of the Ashes series. OK - the Mail says - England did not regain the Ashes, but they won the World Cup and drew the Test series.
In the Mirror's words, it made 2019 an "unforgettable summer". The Sun describes the Ashes draw as an acceptable outcome.
The Telegraph says England restored pride and parity. Australia return home with the urn - the the i says - but England won the final battle