Newspaper headlines: No deal warnings and Sir Elton defends royals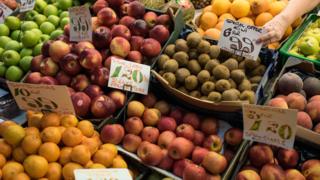 Preparations for a potential no-deal Brexit - and the difficulties and dilemmas they involve - feature heavily in the papers and news websites. Buzzfeed News says it has learnt that British diplomats across the EU are preparing to take part in a government-wide no-deal Brexit rehearsal, called "Exercise Yellow Rehearse".
The website says it is a further indication that a no-deal departure is seen as increasingly likely - and one which would place "significant strain" on the UK's diplomatic network.
Likely or not, it is an eventuality the Freight Transport Association feels unready for, according to Politico - with the association blaming ministers for not spelling out what lies ahead.
"We're just shooting in the dark," its deputy chief executive says, "being asked to prepare for something that we don't fully understand and that the government's not prepared to share with us."
'Food and fuel panic'
According to the Daily Express that process of sharing information with the country at large will begin in earnest in the next fortnight.
Whitehall sources tell the paper to expect a "massive publicity blitz to urge households and businesses to prepare for a no-deal Brexit." Costing £100m, it will encompass adverts on TV, radio, social media and in newspapers.
The Times, though, has learned there is anxiety in government that the campaign could have the unintended consequence of triggering a "food and fuel panic".
Officials have warned of people stockpiling vital goods, causing extreme spikes in demand followed by shortages.
A minister tells the paper: "One of the difficulties of the information campaign is that it has to get the balance right by informing people rather than frightening them."
Get news from the BBC in your inbox, each weekday morning
The Daily Telegraph says a little fear is exactly what the National Crime Agency (NCA) is hoping to instil in drug dealers running so-called "county lines" operations - where gangs in big cities expand aggressively into smaller towns.
The NCA is to use unexplained wealth orders - developed to target corrupt oligarchs - against drug bosses, who are currently using online depictions of their "flashy lifestyles" to recruit pushers. Failing to explain how they pay for their lavish spending will see their property seized.
The rate of unexplained infant mortality has almost halved since records began in 2004, the Times reports. It says what used to be called cot death - a label dropped because it was considered misleading - is becoming less common because fewer pregnant women smoke, and there's greater awareness of risky practices like bed-sharing.
The Sun is one of a number of papers to focus heavily on Sir Elton John's explanation of how the Duke and Duchess of Sussex came to use his personal aircraft to fly to France.
It notes that Prince Harry and Meghan have previously made clear their concern about the environment - yet just one return trip they made to Nice generated the same CO2 emissions as using a car for a year, leading to accusations of hypocrisy.
The Duke must have forgotten about his "luxury travel arrangements" while "preaching on the dangers of carbon footprints" - the Daily Mirror says - "hopefully next time they'll think twice before hopping on a gas-guzzling private jet".