Newspaper headlines: 'Support' for Prince Andrew and new Ofcom powers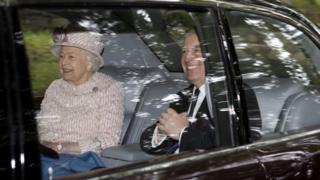 Many of the papers, both tabloid and broadsheet, feature pictures of the Queen arriving for a church service at Balmoral yesterday alongside Prince Andrew.
"Royals rally round" is the Sun's caption.
"Andrew allegations back in the spotlight" is the i's view on what most papers reports as a show of unity, following the death in prison of Prince Andrew's friend, the convicted paedophile Jeffrey Epstein.
The Duke of York had been named in court documents relating to Epstein's trafficking of girls.
He has strenuously denied any wrongdoing and a US judge had dismissed claims of his involvement, but there is speculation that Epstein's death and its subsequent investigation is bound to lead to further scrutiny of their association.
Meanwhile, "Tech giants to be fined millions for toxic videos" is the headline on the front page of the Telegraph.
It says Instagram, Facebook and YouTube could all face fines of up to 5% of their revenue if they fail to protect children from "harmful" content when the government gives the watchdog Ofcom new powers.
But also, crucially, their services in the UK could be suspended or restricted if they fail to comply with enforcement measures.
Law and order
The Times leads on a pledge from Boris Johnson that "criminals must get the sentences they deserve".
The paper suggests a package of criminal justice policies being rolled out this week - including a review into the sentencing of violent and sexual offenders - reflects the prime minister's desire to "rebuild the reputation" of the Conservatives as the party of law and order, ahead of a possible general election.
It reports that prison reform groups have questioned the motivation behind the new drive to get tough on criminals, accusing Mr Johnson of "stoking up public anxiety".
There is good news for Mr Johnson in the Sun, which declares that a poll of its readers has indicated a "massive Boris Bounce" effect for the Conservative party.
The paper says that the new prime minister has wrestled back support from the Brexit Party, and more than 30% of the 850 readers surveyed now say they will vote Tory in any forthcoming election -compared with just 13 per cent in June.
The Guardian's front page story reports hundreds of people deported from the UK were restrained using methods such as shackles and belts.
The paper says that a Freedom of Information Act request showed restraints were used 447 times between April 2018 and March 2019 despite there being a presumption against the use of restraint.
Home Office officials say a full review of the department's manual on "safe escorting" is under way, but the Labour MP David Lammy tells the paper the data was a "chilling" abuse of power.
Survey of GPs
Meanwhile, concerns about continuing pressure on GP services also makes some front pages.
"Scandal over 15-day wait for GP" is the headline in the Express as it reports that an annual poll of GPs has shown that that just one in five patients were able to get an appointment within a week and that the wait for a routine appointment had reached more than two weeks, for the first time ever.
The Patients Association told the paper that difficulties accessing primary care had "reached crisis levels for some patients" while the chair of the BMA's GP committee, Dr Richard Vautrey, says the figures highlight the "reality of the capacity issues" facing GP practices.
One particular problem GPs are grappling with is the focus of the Mail's front page: a national shortage of drugs for hormone replacement therapy.
The paper carries a warning from doctors that they are being "deluged" by women patients panicking because half of HRT drug brands are currently out of stock.
The paper claims the shortage, caused by supply chain problems, is hitting almost all of the 200,000 British women on HRT - leaving many with mood swings, depression and night sweats.
Several papers look ahead to the widely anticipated appointment of the first woman to take on the chief executive role at the Royal Bank of Scotland.
The Financial Times says an official announcement on the appointment of Alison Rose - who it describes as an RBS lifer and an internal favourite since last November - is expected later this month.
But the paper says its been told that headhunters struggled to drum up enthusiasm from external candidates because of constraints on executive pay at the bank due to the government's stake in the business.
According to the Times, that constraint could amount to a package worth a quarter of a million pounds less than her predecessor, Ross McEwan, as the bank tries to reconcile new best practice rules with sensitivity on gender equality.
The Mail focuses attention on the week's forthcoming A-level results with the headline: "Universities open doors to students with poor grades in diversity drive".
It reports that an increasing number of institutions are willing to accept students with lesser A-levels in a bid to hit diversity targets - sometimes offering catch-up foundation years as a route in.
It quotes Southampton University, which offers the option, as saying it is an excellent opportunity for anyone with the potential to succeed.
But Chris McGovern of the Campaign for Real Education is outraged: "A shocking indictment of our schooling" and "misguided social engineering which brings our higher education into disrepute" is his view.
"Get stuck bin" and "bangers and trash" are just two of the tabloid headlines which accompany the tale of how Kayley Cookson and Joe Tilson served up a wedding breakfast with a difference for their nuptials near Bradford.
The 280 guests feasted on impressive dishes of ox, duck and chicken before the happy couple - both ardent environmentalists - told them they'd been fed solely on "surplus food" which had otherwise been destined for a landfill site.
And there is a cautionary tale for the supermarket shopper in the Daily Mirror, that shows it pays to be sharp-eyed when checking out your groceries.
Everyday low prices may be its marketing catchphrase but staff at a Lancashire branch of Asda were left a little red faced after ringing up £239 pounds for a pizza which should have sold for £2.60.
The unlucky shopper, Lindsay Matthews, said till staff had mused "that seems expensive". They then rang the item up again - producing a bill of £596.12.
The mistake was eventually sorted - and Lindsay got her pizza free with a side of Asda humble pie.