Newspaper headlines: Epstein's death and PM's 'tough' jail term plan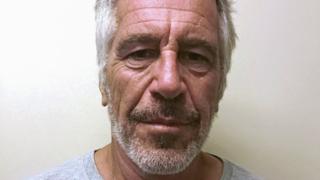 Prince Andrew's links to Jeffrey Epstein are highlighted on the front pages of both the Mail on Sunday and the Sunday Express - after Epstein was found dead in his cell while awaiting trial for sex trafficking charges.
The Mail says the Duke of York may be dragged deeper into the scandal - after sources said an FBI inquiry would now switch to Epstein's associates.
The Observer says victims of the disgraced financier's alleged sex trafficking operation have voiced frustration that his apparent suicide would prevent him from facing justice.
The Sunday Telegraph is supportive of Boris Johnson's crackdown on violent crime but thinks the tough stance is "long overdue".
In its editorial, the paper urges the government to "bite the bullet" and invest in greater prison capacity - arguing that the strategy "worked in the nineties".
"When more people went to jail", it says, "the crime rate fell".
The paper goes on to insist it is "about time" to review the practice of automatically releasing people convicted of serious offences after they have served half their sentence - and calls for sentencing to be "tough, clear and honest, to ensure justice is truly done".
Mr Johnson's attempt to reclaim the Conservatives' reputation as the party of law and order is welcomed by the Mail on Sunday - but the paper has concerns.
"We've heard tough on crime before", it says, adding: "This has got to be different".
According to the Mail, the current system "is an utter flop" because police react to crime after it has happened, rather than patrol preventively to deter it from taking place at all.
It says Mr Johnson is "absolutely right" to make tackling the issue a priority - but warns that action without serious thought and research "will not bring long-term results".
Queen 'frustrated' at political leadership
The Sunday Times claims the Queen has privately expressed her disappointment in the current political class and its inability to govern.
A senior royal source - alleged to have heard the Queen make the remarks shortly after David Cameron resigned as prime minister - is quoted as saying: "She expressed her exasperation about the quality of our political leadership, and that frustration will only have grown".
The paper describes the comments as "among the starkest political statements the Queen is known to have made" - and says they have emerged as MPs threaten to drag her into the Brexit crisis.
Meanwhile, Gordon Brown has made "his most dire warning" about the impact of a no-deal Brexit, according to the Observer, arguing it spells disaster for the union.
Writing in the paper, the former prime minister claims the very idea of a United Kingdom is being torn apart by toxic nationalism, aided by a government driven by a "destructive, populist ideology".
Unionism, he says, "appears to be sleepwalking into oblivion".
Mr Brown concludes his article with a plea for the UK to rediscover the age-old virtues of empathy, solidarity across borders and reciprocity between nations - warning that "these precious ideals" could not survive what he calls the "divisiveness and chaos" of a no-deal Brexit.
The Sunday People claims 60 Labour MPs are ready to support a national unity government to stop a no-deal Brexit - even if it is led by a Conservative prime minister.
According to the paper, a rebel alliance - organised by former Chancellor Philip Hammond - is hoping to bring Mr Johnson down and install a caretaker government.
Those suggested as an interim prime minister include Sir Oliver Letwin and Ken Clarke from the Tories, and Labour's Hilary Benn and Yvette Cooper.
A shadow minister has told the Sunday Mirror that the plan is unlikely to succeed as it would need the support of the SNP - "and they are unlikely to do anything to prop up any British government".
Get news from the BBC in your inbox, each weekday morning
Meanwhile, Prime Minister Mr Johnson's estranged wife has told the Sunday Times she was diagnosed with cervical cancer in May - but now considers herself "free" of the disease following two operations.
Writing in the paper, Marina Wheeler describes the past few months as a "profound experience" that underlined "the incalculable value of holding close those who you love and trust".
She had no symptoms but was diagnosed after she was late for a smear test - and says she has decided to reveal her treatment to encourage more women to receive cervical screening.
"Something else always seemed more important", she writes.
Power blackout questions
The Sun on Sunday is furious about Friday's massive power cut which affected nearly a million people in England and Wales, and caused chaos on the rail network.
According to the paper, the incident raises "serious questions" about how one of the world's major economies was brought to its knees - and it calls for answers from what it describes as the "fat cat boss" of the National Grid, who received a salary package worth more than £4.6m last year.
MPs have told the Sun that John Pettigrew is being rewarded for failure and have demanded that he is back at his desk tomorrow morning, after it emerged that he is on a foreign holiday, making him "unavailable for questions".
Finally, the Sunday Telegraph reports that plans are being drawn up by the chancellor to mint millions of 50p pieces to mark Britain's withdrawal from the EU.
Sajid Javid is said to have asked officials to consider whether "huge volumes" of the coins can be produced in time for the scheduled Brexit date of October 31.
The paper says the decision will be seen as a statement of intent that the Treasury is fully behind Brexit, now that the Remain-supporting former Chancellor Mr Hammond, has returned to the backbenches.
'Royal Hair Force'
Finally, the Royal Air Force "may soon boast trendy hipsters among its ranks", according to the Mail, after airmen persuaded military chiefs to let them grow beards.
Until now, RAF personnel were only permitted to grow facial hair on religious grounds, or when specially authorised for medical reasons.
The Mail notes that "handlebar moustaches, lovingly waxed and twirled, were once synonymous with pilots" but says a recent RAF survey revealed that being forced to shave was a major factor in many airmen quitting their military careers.
With the headline, "the Hair Force", the Sun on Sunday quotes an RAF insider as saying: "We won't be having unkempt or wacky designs. Standards are not slipping".