Newspaper headlines: Tories facing 'chaos' and Prince George turns six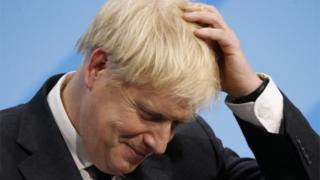 Boris Johnson's weekly column makes the lead for the Daily Telegraph.
In it, he insists Britain can leave the EU with a deal by 31 October if it "rediscovers its sense of mission".
The Telegraph sees his pop at "pessimists" as a reference to the chancellor - after Chancellor Phillip Hammond said yesterday it wasn't possible to get a Brexit deal by the end of October.
The paper also looks ahead to the days following what it expects to be Mr Johnson's "coronation" tomorrow.
The European Commission President Jean-Claude Juncker could be invited to Chequers this weekend, the Telegraph says.
But the Times reports that Mr Johnson has already been warned by EU leaders that his plan to avert a no-deal Brexit risks being scuppered by "unrealistic" demands over the Irish backstop.
The paper says the European Commission has prepared a multi-billion pound aid package for Ireland, to offset the impact of no deal.
The Daily Mirror leans heavily on nautical metaphors, saying the "hapless" Mr Johnson is expected to "take the helm" of the "floundering Tories" as Britain faces "almighty storms".
It says following Iran's seizure of a British-flagged tanker, the UK needs a considered leader, but it'll instead be lumbered with an inept clown.
But the paper says Mr Johnson can celebrate amid the turmoil - following a multi-million pound offer on his former marital home.
Get news from the BBC in your inbox, each weekday morning
The front page of the Daily Mail continues the paper's push for social care reform.
More than three quarters of a million elderly people have been refused state support, according to the paper, since the government pledged to reform the care system in March 2017.
The Mail says those with dementia have borne the brunt of the delay - and notes that both Boris Johnson and Jeremy Hunt have backed its calls for an urgent overhaul.
The Guardian highlights a feud between factions of scientists over a major archaeological project to unearth fresh secrets from the ruins of Pompeii.
Volcanologists are quoted as accusing the archaeologists of "vandalising" valuable evidence about Vesuvius' eruption 2,000 years ago.
Those clues, the Guardian says, could prove crucial for protecting the 600,000 people who still live in the shadow of the volcano, which is expected to reawaken at some point.
The Times reports that the smallest school in England is to shut its doors after 180 years of teaching - because it's been left with just one pupil.
Currently, there are two enrolled at Bleasdale Church of England Primary in Lancashire, the paper says.
But with one due to graduate to secondary school, council officials have reportedly decided it's not financially viable to carry on.
The head teacher tells the Times its staff of seven are shocked and sad, and explains how, with just two pupils, trips out had been "much easier" to organise.