Newspaper headlines: Hunt for Foreign Office 'mole' and no-deal 'plot'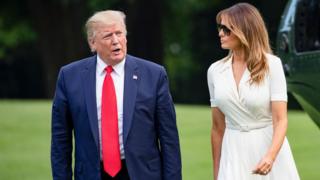 The fallout from the leak of diplomatic cables by Britain's ambassador in Washington, Sir Kim Darroch, is widely reported and makes the lead for the Daily Telegraph.
It says President Trump's aides have called for his sacking - with one source quoted as saying his position is "not tenable" - and Britain should recall him if it wants to maintain its influence with the White House.
According to the Times, the publication of the memos appears designed to damage Sir Kim - who it says is widely regarded as a Europhile - and increase the pressure on the next Prime Minister to replace him.
A number of commentators think the contents of the memos are neither surprising nor especially controversial.
Sir Kim has been briefing his government about President Trump in much the same way as the average American news pundit on TV speaks to his or her audience, the Spectator website says.
It says the expectation now is that the new occupant of Number 10 will replace Sir Kim with somebody who regards the possibility of a new trading relationship between the UK and the US after Brexit as something to be embraced rather than shied away from.
The Guardian says the leak inquiry will be working to cross-check how such a wide array of cables covering such a long period came to be in the possession of someone with the motive of putting them in the public domain.
The Financial Times reports that the leaks have raised concern among civil servants that government is no longer properly functioning. "If this sort of thing happens, there's no point in having us. We can't tell the truth," one senior diplomat tells the paper.
Fierce infighting
According to the Daily Mail's main story, Labour is on the brink of civil war as Brexit and the row over anti-Semitism threaten to split the party.
It says Jeremy Corbyn has been rocked by fierce and high-level infighting on both issues ahead of a nightmare week.
The Labour leader is braced for a bombshell Panorama documentary on the botched handling of the anti-Semitism crisis, the paper says, and is facing further pressure from within the party to back a fresh referendum.
The Guardian leads on the news that hospitals in England are having to cancel operations because consultants have begun working to rule in a standoff over NHS pensions. It says doctors believe the dispute is escalating so fast that it will put NHS services "into meltdown".
According to the paper, waiting times for treatment are also worsening as hospitals struggle to find senior doctors prepared to work more than their planned shifts, which can lead to them receiving pension tax bills of up to £80,000.
An investigation by the Daily Mirror has found that the cost of a holiday during the big August getaway can rocket by up to 80 per cent - or more than £1,000 - compared with early July, when children are still at school.
It says MPs and families have called for school holidays to be staggered to help alleviate demand.
However, teaching unions tell the paper this would likely result in holiday firms charging higher prices for a longer period of time as well as causing problems for families with different term dates for children who go to different schools.
The Guardian reports that once-popular names have gone out of fashion, with parents opting for distinctive names and alternative spellings.
An analysis of changes in baby names in England and Wales between 1996 and 2017 shows that, for boys, Craig, Lee, Ross and Shaun are on their way out.
The writing is also on the wall for Jodie and Gemma, with only 20 of each named in 2017 compared with well over 1,000 each in 1996.
According to the paper, the fastest-rising name for boys is Jaxon, while for girls it is Aria.
Sign up for a morning briefing direct to your phone
The Sun launches a three-part Veterans' Pledge today to help Britain's former service personnel.
The paper is demanding an end to what it calls the postcode lottery that veterans face over medical treatment, housing and other services, as well as legal protection from investigations into alleged historical offences.
It also wants the new prime minister to create a veterans department run by a minister who attends cabinet.
The Independent website says ministers have been accused of making "reckless" staffing cuts after it emerged that the department responsible for welfare benefits has lost 21 per cent of its workforce since the controversial Universal Credit system was introduced.
According to the paper, campaigners warned that staff in the Department for Work and Pensions were under "intense pressure" to deal with growing workloads after government data revealed the workforce had been reduced by more than 19,000 since 2013.
Finally, several papers report that Royal Mail has issued guidelines to dog owners following a 9% rise in the number of attacks on postmen and women. There were nearly 2,500 incidents last year.
The Times says the increase is being put down to the growing popularity of internet shopping, with more front doors being opened to receive parcels, allowing out-of-control pets to pounce.
The advice, the Daily Telegraph reports, includes giving your dog some food to occupy them when the mail is being delivered or shutting them in a secure room.