Newspaper headlines: Tory contenders eye roles in 'Boris cabinet'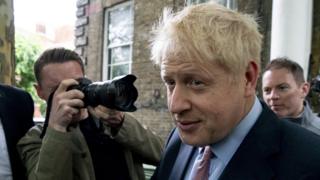 The Sunday Times says Boris Johnson's progress towards Downing Street appears inexorable as his most senior rivals begin circling for jobs in his cabinet.
It says three of Mr Johnson's rivals have used interviews with the paper to issue coded job applications.
Michael Gove has - we are told - offered himself as a potential communities secretary by outlining a plan to solve Britain's housing crisis.
Sajid Javid has auditioned to be chancellor - detailing plans for an emergency budget to stimulate the economy in the event of a no-deal Brexit.
And Dominic Raab has set out his stall as a possible home secretary, unveiling proposals for an Australian-style points system for immigration.
A number of papers report that Tories backing Mr Johnson's leadership bid have warned him that he must deliver Brexit by the Halloween deadline - or they will defect to the Brexit Party.
According to the Sun, he has been told patience is thin among the European Research Group of hardline Brexiteer MPs.
An unnamed former minister tells the Sunday Express that if the UK doesn't leave the EU on time, "the donors will be gone, the members will be gone and MPs will go".
According to the Sunday Telegraph's front page, Theresa May is attempting to ram through a £27bn cash boost for education before she leaves office, prompting a row with senior ministers who believe it is an attempt to bind Boris Johnson's hands.
It says government sources insist she's "still prime minister". But, the paper adds, Treasury officials believe the spending would be "immoral", as it could limit the ability of Mrs May's successor to deliver on their own pledges.
Sign up for a morning briefing direct to your phone
The Observer leads with a survey that, it says, suggests Britain is a more polarised and pessimistic nation than it has been for decades - torn apart by social class, geography and Brexit.
It adds that the survey - by the consultants BritainThinks - reveals an astonishing lack of faith in the political system, with less than 6% believing their politicians understand them.
BritainThinks polled more than 2,000 people and hosted several focus groups in London and Leicester to gauge the national mood.
Royal Marines are being sent to the Gulf to protect British warships following the attacks on two oil tankers last week, according to the Sunday Times.
It quotes military sources as saying that 100 marines from 42 Commando, based near Plymouth, will form a rapid reaction force, operating from ships patrolling from Britain's naval facilities in Bahrain.
The Ministry of Defence has told the BBC this is a pre-planned training deployment and not related to recent events.
And the Sunday People reports that ITV is planning a new show similar to the one hosted by Jeremy Kyle - which it axed last month following the suspected suicide of a guest.
It says researchers are using social media to find people with relationship problems.
"How can shows like this still be allowed?", the paper asks. An ITV spokesman tells the paper that as a broadcaster, it is always developing and piloting potential ­programme ideas for the schedule.