Newspaper headlines: MPs branded 'failures' as cabinet splits
By BBC News
Staff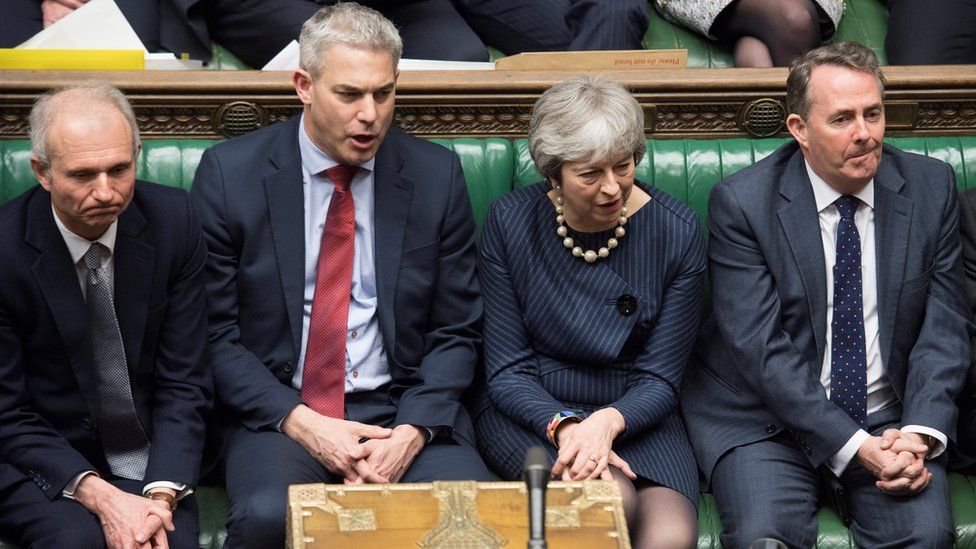 The Daily Express describes the Commons decision to delay Brexit as a damning indictment of our democracy.
With a picture of a packed chamber taking up most of the front page, the headline is simply: "Failures".
With not one defeat, the government could be described as functioning on some level.
That is not a particularly high bar, the Spectator adds, but given how things looked when Theresa May lost control of her ministers and MPs on Wednesday night, it is an improvement.
Nevertheless, eyebrows are raised after seven cabinet ministers - including the Brexit Secretary Stephen Barclay - opposed Mrs May's motion to approve the delay, albeit in a free vote.
The Times points out that Mr Barclay's decision was all the more remarkable since he had closed the debate for the government urging MPs to support the motion.
The i reports that talks between the government and the DUP are said to be promising, while a slow trickle of Tory Brexiteers are suggesting they will now vote for the deal.
According to the Financial Times, although many of the 90-odd members of the European Research Group of Tory MPs appear to be reluctantly moving towards the deal, about 20 are unwilling to compromise.
The Times says the DUP and Brexiteers are looking to the Attorney General Geoffrey Cox to give additional reassurances that would allow a route out of the Irish backstop - the insurance policy designed to avoid a hard border in Ireland.
The paper says he is attempting to win them over with new legal advice stating that - under the terms of the Vienna Convention - Britain would be able to end the backstop if it is having a "socially destabilising effect" on Northern Ireland, which would be considered a "fundamental change" of circumstances.
But - the Telegraph adds - the "star chamber" of Eurosceptic Tory lawyers has concluded that the advice is "erroneous" and "badly misconceived".
There is dismay at figures showing that more than a third of offenders charged with carrying knives for a second time are being spared jail - despite a "two strikes" law being introduced in 2015.
The Sun asks: "Why are judges letting repeat offenders walk free? And how can police possibly reduce soaring knife crime if courts remove the most powerful deterrent?"
Finally, LED strips have been installed on the pavement at a busy junction in Tel Aviv, Israel, to prevent people glued to their smartphone screens from wandering onto the road and being hit by traffic.
The local head of traffic says the authorities cannot force people to take their eyes off their smartphones and onto the road, but this is a way to put the road into their eyes.