Newspaper headlines: A 'no-no' to no-deal and May's final warning
By BBC News
Staff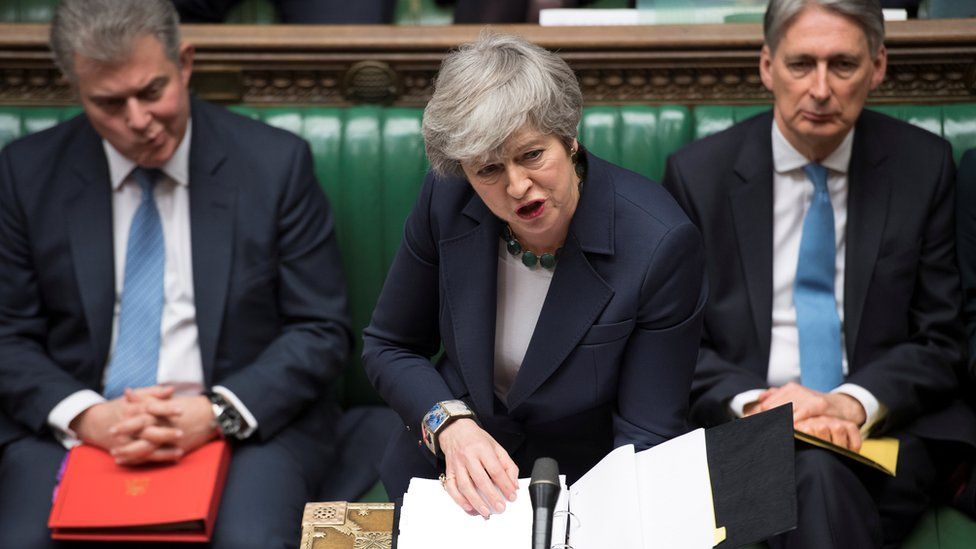 The Mail says Theresa May's authority has been left in tatters - with none of those ministers who rebelled to vote to rule out a no-deal Brexit expected to be sacked.
The sketch writers express bewilderment.
The paper adds that by calling for a deal that MPs can "collectively support", Phillip Hammond was signalling he no longer backs the PM's withdrawal deal, and instead wants a compromise with Labour.
The Huffington Post website sees this as a demand for Mrs May to back a customs union with the EU - the only position Labour will support.
A "soft Brexit bribe" is the Daily Mail's more blunt description.
The Telegraph says Brussels plans to "play hardball" by demanding a long extension.
A senior EU official tells the paper that a short delay would only pre-program a no-deal Brexit for the summer.
Bloomberg quotes Michel Barnier, the EU's chief negotiator, who asks: "Why do you need a prolongation? Is it for organising a new referendum?"
Away from Brexit, the Sun's front page carries a claim, made in a new Netflix documentary, that Madeleine McCann may be still alive, 12 years on from her disappearance in Portugal aged three.
In the film, child abduction experts reportedly argue she may have been kept alive by a people trafficking gang for financial reasons.
The Daily Mirror reports that her parents Kate and Gerry McCann have distanced themselves from film - which is released tomorrow - and says their lawyers will be monitoring it carefully.
The Times is among the papers to pick up on archaeological findings, showing that not only was Stonehenge an astounding feat of pre-historical engineering - but also an excuse to throw the biggest party the British Isles had ever seen.
The Sun says revellers travelled from hundreds of miles around, to party like it was 1999 BC.