Newspaper headlines: Brexit spending bonanza or rotten deal?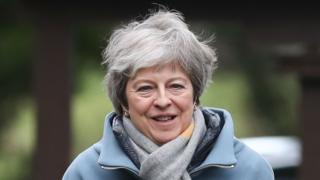 As MPs prepare to vote again on Theresa May's Brexit deal, many pundits are predicting another defeat for the prime minister.
The Observer offers comfort to those who are pinning their hopes on another referendum.
It says Brexit Secretary Stephen Barclay has held detailed talks with two Labour MPs who are championing plans for another vote.
MPs Peter Kyle and Phil Wilson have suggested their colleagues should support Mrs May's deal on the condition that it is then put to the country in a public vote, which would include a "remain" option.
Supporters of Brexit will no doubt bristle at the findings of a study by academics from the University of Missouri, published in the Sunday Times.
The researchers gave more than 11,000 volunteers psychological tests before the referendum and asked them how they intended to vote.
Their results suggested that leavers tended to be less numerate, more impulsive and prone to accepting unsupported claims of authoritarian figures.
The scientists also questioned the use of referendums to decide complex issues, concluding that many voters lacked the skills to critically evaluate information.
'Sick' online knife trade
As concern mounts over rising knife crime, many of Sunday's papers focus on the issue.
The front page of the Sunday Mirror features the image of a folding blade emblazoned with Spider-Man branding.
It's just one example of what the paper describes as a "sick" online trade in cut-price knives branded with superhero logos.
Tackling the problem could take years, according to the paper's leader column. But a "joined-up" strategy deployed in Glasgow, involving schools, hospitals, councils, social services and police - and driven by data, not instinct - should be adopted.
It took years to work, the paper notes, but eventually bore fruit.
Get news from the BBC in your inbox, each weekday morning
The Sunday People agrees. Although the Glasgow model is a long-term method that's not as fashionable as the "hang 'em and flog 'em" approach - it works.
The paper calls for better prisons, work in schools, more job creation and a sensible grown-up conversation about the issue.
Writing in the Sunday Express, the Conservative MP, Philip Davies says there's a chasm between parliament and the people when it comes to law and order.
The public, he says, want more police and tougher sentences for most crimes. But the Ministry of Justice is pursuing a plan to replace short sentences of up to six months with no sentences at all.
The Sunday Telegraph says the government is drawing up plans for youth workers to be sent into hospitals to talk to gang members with knife injuries.
Health Secretary Matt Hancock has told the paper he wants to mirror an approach taken in Baltimore in the US where social workers, parole officers and psychiatrists formed intervention teams to provide a programme for patients with violent injuries.
Self-help books help themselves
The uncertain times we're living through may be causing many people stress but they're good news for the authors of self-help books, according to the Observer.
Sales of advice books by celebrities, psychologists and internet gurus have reached record levels.
Three million flew off the shelves during the past year, propelling self-improvement or pop psychology into one of the fastest growing genres of publishing.