Newspaper headlines: Knife crime, Prodigy star's death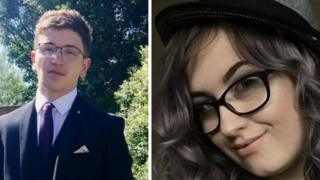 The front pages of the Daily Mirror and the Daily Mail both show photos of young victims of recent knife crime, with the same headline - "How many more?".
The Mirror's editorial says "we cannot stand by and watch more young lives be lost", and more families mourning their "precious children".
The paper demands government action including giving police more powers, and appointing a knife crime tsar.
The Guardian gives more details of some of the victims: Hazrat Umar, who was stabbed last week in Birmingham, had come to the UK because he believed it was safer than his native Pakistan.
The father of Nedim Bilgin, killed in London in January, said his "baby boy" had been led astray by "bad friends".
The Sun urges Home Secretary Sajid Javid to "get a grip" by introducing more stop and search, as well as tougher sentences for offenders.
The paper also challenges Labour's complaint that the funding announced on Monday for the poorest towns in England is not enough to help them prosper after Brexit.
The paper says it's a step forward for areas left behind by successive governments.
The Daily Express also calls the money a move in the right direction, which will "breathe new life into forgotten regions".
But the Mirror says the announcement backfired, after it emerged the areas which would benefit had already suffered far bigger funding cuts.
The Times leads with an investigation which it says has revealed the extent to which schools in England are relying on donations from parents to buy textbooks and pay staff salaries.
It says more than 200 schools asked for money in the past year, with about half specifying amounts - and one asking for £1,200 per child per year.
The paper also found that head teachers were cleaning toilets and washing dishes because of staff cuts.
Its editorial says this is not a sustainable way to fund the kind of world-class education system that the younger generation needs.
"To lose one Dimbleby may be regarded as a misfortune", says the Daily Telegraph, finishing: "To lose both looks like the end of an era for the BBC."
It says the "Dimbleby reign" is over, with Jonathan stepping down from Any Questions? on BBC Radio 4, soon after David left TV's Question Time.
The Daily Mail says the fact that nobody took serious umbrage at the family stranglehold over so many serious occasions was because they were masters of "the fiendishly difficult art of being a broadcasting ringmaster".