Newspaper headlines: Trump allegations and footballers' mental health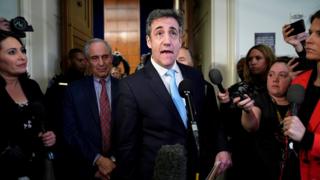 Many papers assess Michael Cohen's claims about Donald Trump - and four words feature prominently on the morning's front pages: "racist", "cheat", "liar" and "conman".
The Telegraph says Cohen's "explosive" appearance before Congress saw him deliver a "character assassination" of his former boss - accusing him of running for office to boost the profile of his brand "on a platform of hate".
According to the Guardian, the Trump presidency "was pushed into deep legal and political peril", with testimony that will be "seized upon" by those calling for his impeachment.
The Financial Times says Republicans responded by attacking Cohen's credibility, after he portrayed himself as a "fool" who "blindly served" Mr Trump, but was now setting the record straight before going to prison.
'Hateful new low'
In what it calls a "hateful new low", the Daily Mail says Jeremy Corbyn tried to block Chris Williamson's suspension from the Labour Party, before he was forced to withdraw the whip from his ally after a mass revolt by 38 moderate MPs.
The Independent website says it's been told by a string of senior Labour figures - including two on the party's front bench - that Mr Williamson was about to be suspended, until Mr Corbyn's office "directly intervened".
A shadow cabinet source is quoted as saying: "They hide behind process, but these decisions are always taken by the leader's office."
'Unexpected move'
According to the Times, the world's largest sovereign wealth fund is betting that Britain "will emerge from Brexit stronger outside the European Union".
In what it describes as an "unexpected move", the paper says Norway's £740bn wealth fund will increase its exposure to British companies, property and bonds "regardless of the outcome of Brexit negotiations".
The paper says this is despite a 12% fall in the value of its UK investments this year.
The fund's chief executive is reported to have said: "With our time horizon, which is 30 years-plus, current political discussions do not change our view of the situation."
'Chill says Wills'
With the headline: "Chill, says Wills", the Sun says Prince William has urged people to come together, in what the paper describes as a "thinly veiled plea for Brexit unity".
The front page of the Daily Express highlights the same speech in Belfast, saying the Duke of Cambridge "issued a rallying cry" for calm and leadership.
The Mirror says Prince William has criticised football clubs in his role as president of the Football Association, accusing them of exploiting young players by treating them solely as financial assets, and not caring about their mental health.
The former England striker Stan Collymore, who described his experiences of depression in the Mirror, tells the paper the prince's comments are "potentially game-changing".
'Too little, too late'
The launch of BritBox - a joint venture between the BBC and ITV to rival Netflix - is criticised. The Daily Mail is one of several papers to complain that the new subscription service will feature "old programmes we've paid for already".
It suggests that what it calls the "lucrative new income stream" should be used to cut the licence fee, or pay for free licences for the over-75s.
The Times argues that impressive back catalogues "are no guarantee of success" and warns that with Netflix and Amazon enjoying 10 million UK subscribers between them, "BritBox's launch may be too little, too late".