Newspaper headlines: Richest man quits UK and Brexit food aid plan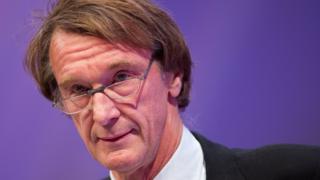 A prominent Brexiteer is planning to avoid up to £4bn in UK taxes after moving his home and money to Monaco, the Sunday Times reports on its front page.
Sir Jim Ratcliffe - who built up the chemicals giant Ineos and is Britain's richest man - has been working with accountants PwC on a "labyrinthine" tax avoidance plan, a source told the paper.
The front of the newspaper also features claims that Brexit supporting Conservative MPs have rejected attempts by Theresa May to get them to back her deal for leaving the EU.
It quotes leaked WhatsApp messages from the deputy chairman of the European Research Group of Tory MPs, Steve Baker, saying it insists the so-called backstop - to prevent the return of a hard border in Ireland - be removed from the Withdrawal Agreement. He says a failure to do so would lead to a split in the party.
"800 jihadis ready to unleash ISIL on the West" is the dramatic front page headline in the Sunday Telegraph. It says US officials have warned the UK and other European countries they are running out of time to take back their jihadists captured in Syria - to prevent a surge of terror attacks at home.
A US government source tells the paper that Britain's refusal to take back UK jihadists is effectively a policy of "leave them at large and hope they don't find a way back".
Get news from the BBC in your inbox, each weekday morning
A former vice-chair of the Labour Party writes in the Sun on Sunday that he is resigning in protest at what he says is the failure to tackle anti-Semitism.
Michael Dugher - who was a Labour MP from 2010 to 2017 - says the party he joined was proudly anti-racist, but he says that is "not so today".
He says Labour hasn't done enough to root out anti-Semites from its ranks - and states that: "it pains me to see what the Labour Party has become".
The Observer says it can reveal that the Home Office is selling the services of its immigration officials to private companies. Internal documents seen by the paper suggest that the department is attempting to embed officers at a rate of almost £60 an hour as part of what it calls an "enhanced checking service" being offered to private firms - as well as NHS trusts and local authorities.
Finally, the Mail on Sunday reports that Princess Margaret's son is set to write a biography about his mother which will reject recent portrayals of the Queen's late sister as what the paper describes as "an insatiable party-goer and chain-smoking diva".
It reports that David Armstrong-Jones has been concerned by a depiction in books and the TV series "The Crown" of a woman who was only interested in parties.
He's quoted as saying that his mother was so much more than that - devoting a huge amount of time to the arts and carrying out duties on behalf of the Queen.
He also mentions her more domestic qualities, such as making salmon mousse and washing her own chandeliers.