Newspaper headlines: May's Brexit 'phone plea' to union bosses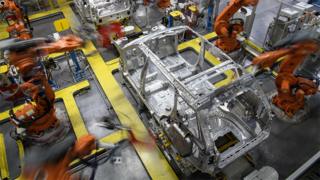 Theresa May's phone calls to union leaders, hoping to gain their support in pressuring MPs to back her Brexit deal, make Friday's headlines.
For the Daily Mail, it was a "surprise move" by the prime minister, while the Independent website describes it as a "desperate bid to secure backing".
However, the Guardian says the calls sparked hopes among senior Labour figures that Mrs May was laying the groundwork to compromise.
As many as 4,000 civil servants are abandoning their day jobs to focus on preparations for a no-deal Brexit, according to the Times. Officials working on education, justice and welfare are among staff in five government departments who are being asked to take up new roles within weeks.
But the Guardian carries a warning from the Confederation of British Industry that leaving the bloc without a deal would have "profound" consequences, shrinking the UK economy by up to 8% and putting thousands of jobs at risk.
Blame game
For the Daily Mirror, uncertainty about Brexit played a major part in the decision by Jaguar Land Rover (JLR) to announce thousands of job losses. The paper urges the government to avoid a disorderly departure and deliver a deal that safeguards jobs and protects the manufacturing industry.
However, the Times believes the job losses aren't about Brexit but a response to pressures on the company's profitability. It suggests a number of ways the government could provide a stable base for businesses, including by pressing ahead with reductions in corporate tax rates.
The Daily Telegraph says it's become almost customary for companies to blame Brexit and points to JLR's decision over the past three years to move production of the Land Rover Discovery model from Solihull to Slovakia.
Slovakia had offered Jaguar Land Rover £110m in state aid, yet EU rules left Britain powerless to object, the paper adds.
Get news from the BBC in your inbox, each weekday morning
Health problems?
An investigation by the Daily Telegraph suggests that hospitals routinely allow male patients to share female wards if they self-identify as women.
The paper claims that despite official guidance intended to eliminate mixed sex wards, NHS trusts in England don't require patients to have begun transition to be treated as their preferred sex. The Telegraph looked at responses to more than 100 Freedom of Information Requests.
Meanwhile, the Guardian considers a study suggesting that fibre reduces the chances of an early death as a "blow to the low-carb" diet.
But Professor Jim Mann, who led the research for the World Health Organisation, tells the paper that it won't mean an end to the "diet wars". He insists there are too many vested interests involved in the industry, from celebrity chefs to doctors and scientists.
Wardrobe malfunction?
The Daily Mail questions whether the Duchess of Sussex chose an appropriate outfit for a visit to a charity which provides clothes to women hoping to get back into work.
"Was her £5,600 outfit the right choice?" it asks.
The Daily Telegraph is more charitable, saying Meghan has displayed kindness by making undercover visits to those in need.
Finally, residents of a coastal town in north-west Wales are hoping to strip a city in New Zealand of the fiercely contested title of being home to the steepest street in the world.
The Guardian explains that measurements are being taken by a surveyor walking up and down the road in Harlech to try to prove it's steeper than Baldwin Street in Dunedin. The final ruling will be made by Guinness World Records.
The Mayor of Dunedin warned that the street had seen off previous challenges, joking: "If Wales turns out to have a steeper one we will just have to arrange one of our periodic earthquakes and tilt Baldwin a bit more".