Newspaper headlines: May's 'last-ditch bid' as EU 'turns deaf ear'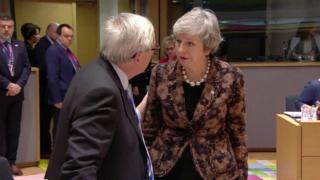 The EU's refusal to renegotiate the Brexit deal is reported as a humiliation for Theresa May by both the Telegraph and the Times websites.
Their newspaper editions were published before Brussels gave its response.
The Mail Online says the prime minister's hopes were dealt "a fatal blow".
The Guardian calls it a "devastating knock back". It suggests Germany and Austria had supported Mrs May's call for the backstop to last only one year, but it was rejected by France, Sweden, Spain and Belgium.
The Times says France and Ireland led the opposition movement.
Several papers steer clear of Brexit on their front pages.
The Daily Star even offers a guarantee that its entire paper contains what it calls "no boring Brexit stories".
It leads instead with the complaint raised by a head teacher that too few primary schools stage traditional nativity plays any more.
On its front page, the Daily Mail reports on what its describes as a "council tax bombshell".
It says millions of families will face above inflation tax rises of more than one hundred pounds if proposals announced by the government on Thursday are implemented.
The Sun says a typical bill for a band D property has gone up 25% in a decade.
Writing in the Daily Telegraph, Home Secretary Sajid Javid says the increases will give the police an extra billion pounds.
The Mail concedes there is an argument for extra money to tackle crime, but only, it warns, "if they spend it wisely".
The Police Federation boss tells the Daily Star the money is a "sticking plaster solution," which sees the burden falling unfairly on council tax payers.
Get news from the BBC in your inbox, each weekday morning
The Daily Mirror accuses Conservative politicians who have been photographed at food banks of "shameless hypocrisy".
It claims that Tory policies - including the introduction of the Universal Credit - have driven people to use the food banks.
It publishes pictures of 15 MPs including Iain Duncan Smith - the architect of the new welfare payment system - at food donation centres.
The Mirror quotes the Labour MP Liam Bryne who says the Tories have "caused untold hunger, poverty and pain" and "treated it as a photo op".
A New York Times journalist who appealed for tales of woe from anyone who had experienced crime in London, got more than she bargained for, according to the Times and the Mail.
Among the tweets she received included "six pounds, for a pint, daylight robbery!" and "I once had to travel on the Central Line in the summer. My case will appear before the European Court of Human Rights".
"A number of people use "less" when they should use fewer... But that's more of a capital offence than a petty crime," another person added.