Newspaper headlines: A cross-party alliance to 'dump May'?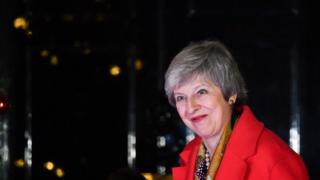 The Times says MPs are preparing to force the prime minister out of office - if she loses the vote on her Brexit deal on Tuesday.
The paper reports there have been "febrile" communications among Conservative MPs ahead of a potential leadership election.
It goes on to name seven senior Tories who are likely to run - including Boris Johnson, Dominic Raab and Amber Rudd.
It claims that Mr Johnson has told allies to expect Theresa May to resign on Wednesday.
The Guardian, meanwhile, says the prime minister will spend the weekend at Chequers, before embarking on what it says could be "the closing act of her premiership".
It says a number of Brexit supporting junior ministers could resign on Tuesday, unless there are major changes to her deal.
In its editorial, the Sun is highly critical of plans for a so-called "Norway plus" form of Brexit - where the UK would leave the EU, but remain in the single market.
The paper describes the proposal as a "non-Brexit" that only satisfies those who campaigned to Remain.
It adds that another referendum would be a better option - but it says Remain cannot be on the ballot paper, as it was defeated in 2016.
Elsewhere, the Daily Telegraph says it understands that Roman Abramovich is one of a group of Russian oligarchs being targeted by British intelligence - as part of a campaign to disrupt the activities of President Vladimir Putin.
It says a list of six wealthy and high-profile Russians has been drawn up by intelligence agencies and approved by the prime minister.
It adds that the list will be shared with Britain's allies in Europe and North America in attempt to disrupt their ability to travel and do business.
Mr Abramovich's spokesman declined to comment - but a source said the Chelsea FC owner was emphatically not in Mr Putin's inner circle.
Get news from the BBC in your inbox, each weekday morning
The front page headline in the FT Weekend is: "Outsourcer fights to avert collapse".
The paper says Interserve - which carries out a large number of government projects - is in talks that could see creditors take control, in an effort to avoid what it calls "a Carilion style collapse".
The FT points out that the firm employs 45,000 people in the UK and provides services in a range of areas, including schools and hospitals.
Finally, the Daily Mail says Prince Charles is set to become the first member of the royal family to visit Cuba.
It reports an historic visit to the communist state is in the early stages of planning - but has not yet been officially confirmed.
It points out that such a trip would have been unthinkable just a few years ago, when the country was still under the firm control of Fidel Castro and his family.