Newspaper headlines: 'Never forget' and a 'rebuke' to nationalism
By BBC News
Staff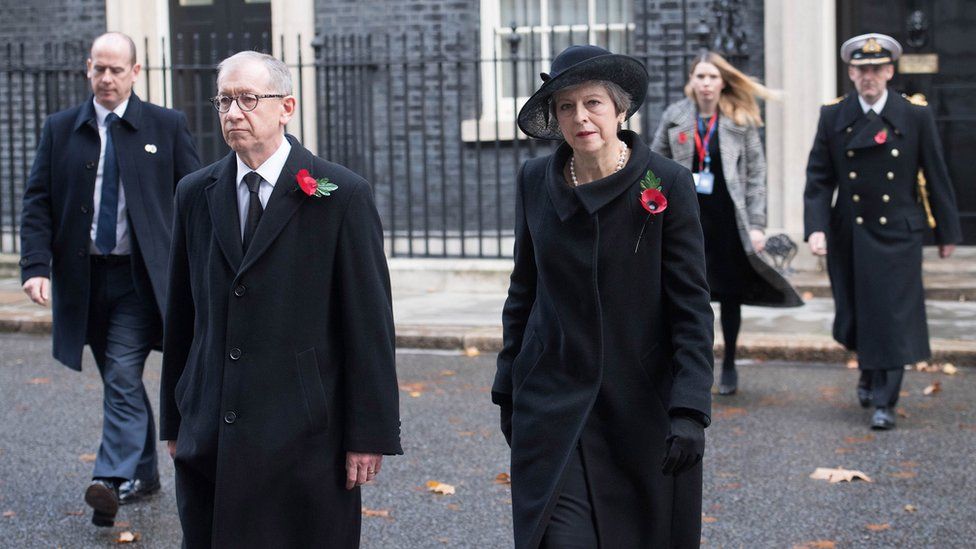 "Forty-eight hours to sort Brexit," runs a headline in the Daily Mail, which warns that Theresa May has until tomorrow night to break the deadlock, or she'll be forced to spend billions of pounds on preparations for a possible "no deal".
The Sun agrees "crunch time" is fast approaching. The paper's columnist, Trevor Kavanagh, likens the situation to a plane, in which Remainers and Brexiteers are going down together, while the pilot - the prime minister - steers the country towards "abject humiliation".
"Barring a bold last-minute swerve, we are all doomed," he adds.
The Guardian's Matthew d'Ancona agrees that the logic points to an extension of Article 50 and a so-called People's Vote, but he says that much more probable is a political collapse in which Mrs May is ousted.
But calls for another referendum are dismissed by the Daily Express as a "recipe for more chaos and division". What is needed from the government, it says, is more resolve.
"In silent prayer" is the main headline in the Express, which devotes its front page to a photograph of the Queen - eyes closed and deep in thought - leading the nation's tribute to British servicemen killed in World War One.
On the front page of the Daily Mirror, a photograph shows a veteran clasping a child, as the pair read names on a war memorial. "For your tomorrow, they gave their today," the headline says.
The Financial Times leads with Emmanuel Macron's attack on nationalism as a "betrayal of patriotism", describing it as an implicit "Armistice Day rebuke" to President Trump. The paper says the architect of "America First" politics cut a sometimes isolated figure during his visit to France.
The project, part-funded by the government, is being pioneered by a job centre in south-west London. One participant says the twice-weekly sessions on cold and muddy fields have made her stronger inside: "I feel like Rambo!"
A cartoon in the paper shows a male human resources manager being rugby-tackled to the ground by a determined woman as he interviews her for a job. "Very good," he gasps. "Now let's move on from your practical skills..."