Newspaper headlines: 'Crisis' resignation and Armistice tributes
By BBC News
Staff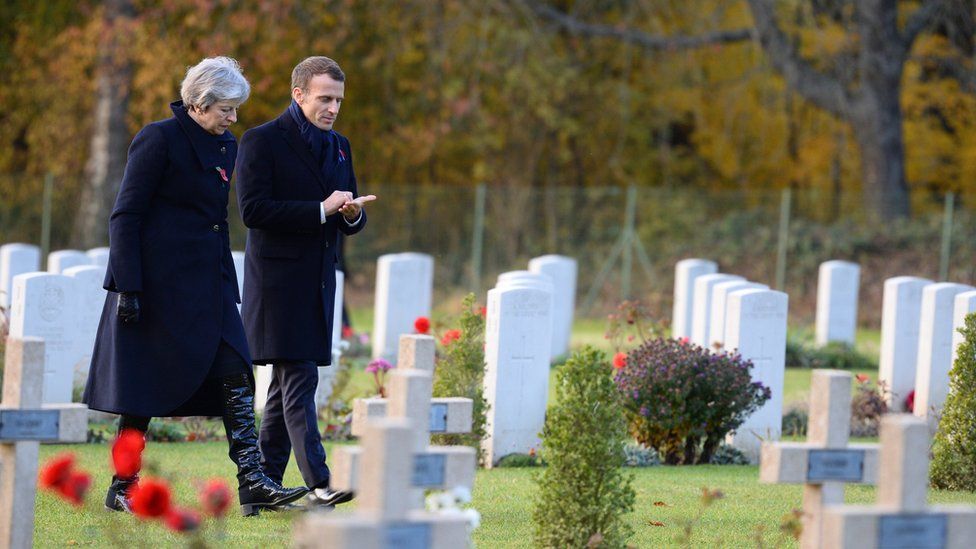 Many of the newspapers lead with pictures showing Theresa May alongside French President Emmanuel Macron at the Thiepval Memorial, paying tribute to British soldiers killed during the First World War.
"Brexit hostilities put on hold as leaders stop to remember battle" is a headline in the Times.
The Times says yesterday's departure sent shockwaves through government and risked fatally undermining the Prime Minister's efforts to get Tory MPs to vote for her fledgling Brexit deal.
According to the Daily Telegraph, Downing Street had hoped Mr Johnson would help persuade fellow Tory Europhiles to back the withdrawal agreement, but instead there are now fears that other ministers could follow him out of the door.
Mr Johnson tells the Mail his departure is not part of a plot to help his brother into Number 10. "This is not about leadership", he says. "I'm not trying to oust Theresa May".
But the Telegraph asks this question: in becoming the first minister to resign in order to push for another referendum, might Mr Johnson become the leader that Remainer MPs crave - and be the Johnson to finally cross the threshold of Number 10?
There are indications that the Brexit talks could be in trouble again. The Financial Times says Mrs May received reports from Brussels that they had stalled over how to avoid a hard Irish border. "Things are deadlocked," one government official is quoted as saying. "Talks haven't proceeded as we would have wanted".
According to the Times, Downing Street has admitted that negotiations are now in "deadlock territory" - although talks will continue this weekend.
Away from all the Brexit talk, should BBC Radio 2's teatime show be called Drivetime? The Mail says it goes on air when most people are travelling home from work, but Jeremy Vine - who presents the station's lunchtime show - is annoyed about the name and has pleaded with the BBC to change it.
The Times says a recent BBC press release announcing Sara Cox as the new host for that slot had featured the word Drivetime five times. According to the paper, Mr Vine - a passionate cyclist - complained on Twitter that the nation's addiction to cars had turned our cities into "traffic sewers", made people asthmatic, fat and angry and made our planet suffer.
The Telegraph reports that, in response, a BBC spokesman said Drivetime was a generic term - and the new show was simply going to be billed under Sara Cox's name.