Newspaper headlines: 'Brexit impasse' and a 'tussle in Brussels'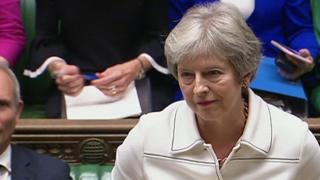 There are detailed assessments of the state of the Brexit negotiations in Monday's papers following Sunday's unsuccessful talks in Brussels.
"We are now entering the moment of crisis", declares Boris Johnson in his regular column in the Telegraph - accusing the EU of treating the UK with "naked contempt" on the issue of the Irish border.
For The Times, the blame is less clear cut.
"Every relevant faction is unyielding at present", it says, suggesting that "with the deadline looming, it is time for all to soften", in case "everyone means what they say and the result is chaos".
But others have questioned whether things are as gloomy as they appear.
The Guardian quotes an unnamed diplomat, who says the breakdown of talks has injected a "bit of theatre" into proceedings, allowing Theresa May to appeal directly to European leaders for "helpful intervention" when they meet in Brussels on Wednesday.
Another diplomat tells the Financial Times that the EU remains "happy to do everything it can" to help her sell a deal to her MPs.
Away from Brexit, the Daily Mirror reports that Russian spies have launched a campaign to recruit former MI6 officers - as Vladimir Putin seeks to draw a line under recent blunders by his military intelligence agency, the GRU.
The paper says it has seen a leaked copy of a Foreign Office memo, warning that Moscow regards retired members of the service as "high-priority targets".
It also advises them that their loved ones could be threatened as part of the coercion process. The Foreign Office declined to comment.
The launch of an official strategy to tackle loneliness in England features in the Daily Express.
It says GPs will be encouraged to refer elderly people for social activities, such as ballroom dancing and cookery classes, rather than prescribing medication.
Royal Mail will also pilot a scheme where postal workers check in with lonely people on their rounds.
The government says it hopes the strategy will reduce demand on the NHS and improve patients' quality of life.
Get news from the BBC in your inbox, each weekday morning
And the comedian Seann Walsh is pictured in many of the papers embracing his Strictly Come Dancing partner Katya Jones - after they avoided elimination from the show despite the continuing fuss about a kiss they shared while in other relationships.
The Sun claims other professionals in the competition were "furious" that they avoided the chop.
But, writing in the Daily Mail, Jan Moir believes their stay of execution will likely be short-lived.
"Seann is as funky as a spatchcocked chicken with jackhammer knees", she says, adding: "I give him three more weeks at the very most."