Newspaper headlines: 'Cabinet mutiny' and DUP pressure on May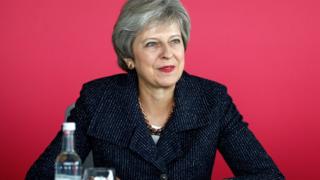 As Theresa May prepares for a cabinet meeting on Tuesday and a summit with EU leaders the following day, the Observer asks whether she has run out of Brexit options.
The paper's political editor, Toby Helm, feels it's increasingly hard to see where the prime minister can win enough support at home for a deal, even if she gets one in Brussels.
The Sunday Times believes there is still scope for her to pull something out of the bag.
It argues that were she to secure agreement that the length of the time Britain remains in the EU customs union after Brexit is a matter for this country, not the EU, many of the Tory objections would fall away.
The Sunday Telegraph is worried about the prospect of remaining in the customs union - and urges Brexiteers to ask Mrs May to change course.
If Brexiteers do nothing, it says, they will end up sharing responsibility for the "coming debacle".
The Mail on Sunday calls on MPs to put the country before their careers to find an exit from the EU that will implement the referendum result and keep Britain prosperous and safe.
The Sunday Mirror reports that the prime minister is "within a whisker" of a getting an agreement with the EU on Wednesday.
But it says that if she pulls it off at the summit in Brussels, it will tie Britain to Europe for three more years.
The Sun quotes a south German newspaper that claims a Brexit deal will be rubber stamped on Sunday and be announced Monday.
But, on Saturday night, Downing Street said the report was "100%, categorically untrue".
Get news from the BBC in your inbox, each weekday morning
The Telegraph predicts that the Islamist preacher, Anjem Choudary, will subjected to the most stringent living conditions ever placed on a British citizen when he is released from prison this week - after serving half his sentence for a terrorist offence.
The Observer reports that he will be barred from travelling abroad without permission and his use of the internet and access to mosques will be limited.
The Sun on Sunday highlights figures that show 17,000 members of the armed forces are clinically obese.
They are said to be piling on the pounds by tucking in to three cooked meals a day.
The Mail describes the figures as shocking - arguing that fat solders are a danger to themselves and the country.
Many of the papers feature the official wedding photographs of Princess Eugenie and Jack Brooksbank.
One image includes Sarah, the Duchess of York, standing between the Duke of York and the Duke of Edinburgh.
It may be, says the Sunday Times, an image that puts paid to a quarter of century of speculation about the feud between the Duchess and Prince Philip, while the Sunday Express calls it the picture that puts Fergie back in the royal fold.