Newspaper headlines: Branson 'in pickle' and Archbishop's 'fury'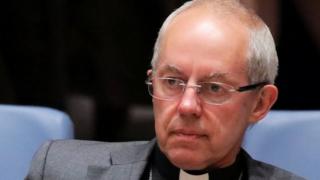 "Deliver us from Evil" is the headline in the Daily Mirror, as it reflects approvingly on what it calls the Archbishop of Canterbury's furious attack on Amazon for not paying enough tax - allegations the company rejects.
In its editorial, the Mirror welcomes Archbishop Justin Welby's speech to the TUC, and calls on the government to act on what it calls his "divine intervention".
The Sun takes the opposite view. In its editorial, it calls Archbishop Welby an "arch leftie", arguing that if he wants to advocate policy positions that sound similar to Labour's why doesn't he "bin the day job and stand for office".
The paper says the Archbishop shouldn't use the Church's "dwindling authority" to "endorse a Marxist road to ruin".
'Face of revolt'
The Times reports that Prime Minister Theresa May wants to announce strict immigration controls at the Tory party conference.
Downing Street has apparently summoned the cabinet to a special meeting a week before conference in order to discuss the issue.
Though some members of the government are said to be uneasy about Mrs May's plans, the Times reports she feels that tighter curbs and ending preferential access for EU citizens is needed to "reassure Brexiteers" and steady her leadership in the "face of revolt".
The Daily Express, meanwhile, is concerned about the treatment of the Conservative backbencher, Jacob Rees-Mogg, who - along with this children and nanny - were heckled outside his home.
"How has our country come to this?" it asks.
Get news from the BBC in your inbox, each weekday morning
Tocophobia is an overwhelming anxiety about giving birth and according to the Times, it's being aggravated by the growing number of mothers posting graphic accounts of the birthing process online.
Catriona Jones, a lecturer in midwifery, says sites such as Mumsnet are full of new mothers saying "it's terrible, it's a bloodbath". Ms Jones says there is evidence this is stoking anxiety in pregnant women and leading more of them to unnecessarily seek a caesarean section.
But the woman on the front page of the Sun appears unencumbered by any anxieties about having a baby - or even four of them.
At the age of 50 and with eight grandchildren already, Tracey Britten is pregnant with quadruplets.
Ms Britten - who is set to be the UK's oldest mum of quads - tells the paper: "People can say what they want... when they see four beautiful babies they'll change their minds."
Someone who may regretting some social media over-sharing is the Virgin boss, Sir Richard Branson.
He tweeted an image of himself jogging to a meeting, accompanied by a caption explaining that turning up late really annoyed him.
That prompted "fury" from Virgin customers, the Metro reports - given nearly 20% of Virgin's West Coast train services are delayed.
Not only that, the Telegraph points out - one in five Virgin Atlantic flights from the UK are classed as delayed, and Virgin broadband customers have complained of waiting up to five weeks for an engineer.