Newspaper headlines: 'Boris plot to oust' PM and Corbyn 'coup'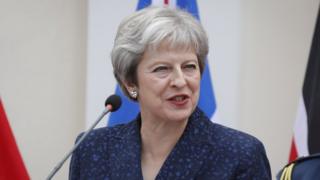 Many of Sunday's papers lead on political stories ahead of MPs returning to Parliament after their summer recess.
The Sunday Times reports that Theresa May is facing a new threat to her leadership that will "ignite a firestorm" in Westminster.
Senior Tories tell the paper that the prime minister's former election guru, Sir Lynton Crosby, is orchestrating a nationwide campaign to discredit the PM's Brexit plan - with the aim of installing Boris Johnson in Downing Street.
One MP who is said to be involved in the plot says: "If we stop Chequers - there's no way she'll survive".
The Mail on Sunday claims Mrs May has "declared war" on her former foreign secretary after "rumbling" the plot.
Mr Johnson is said to deny any involvement - but allies of the prime minister say it is suspicious that he seems to be using tactics employed by the Australian consultant.
They point to the furore over his comments about the burka as an example.
But the Mail has a message for Mr Johnson: "Back off".
Its editorial says there is already one party tearing itself to pieces in public, clarifying that that "fortunately for Britain, it is Labour".
'No confidence'
The Sunday Times doubles up on its front page by delving into the opposition's problems too, reporting that a group of Labour MPs are also planning to unseat their leader.
Up to 15 are reportedly considering a vote of no-confidence after being pushed to the brink of quitting the party because of Jeremy Corbyn's handling of the anti-Semitism row.
The splits in Labour attract plenty of comment as well.
Andrew Rawnsley in the Observer doubts whether Frank Field will be the last MP to leave the parliamentary party.
But he says an orchestrated break-away will be hard to manage because many potential rebels are torn between their long loyalty to Labour and their loathing for what is happening to it.
The Sun says moderate Labour MPs have been meeting in secret to discuss the party's future.
And the Sunday Mirror's leader column urges Labour's ruling body to adopt the international definition of anti-Semitism in full when it meets on Tuesday - or risk this month's party conference descending into a shambles.
The Sunday Telegraph reports that the government's Help to Buy scheme - where prospective home-owners cover part of their deposit with a loan from the state - is facing the axe.
Ministers are said to be concerned the policy is helping wealthy households move up the property ladder rather than its intended target of less affluent first-time buyers.
But the paper believes doing away with the scheme altogether could be damaging for the Tories.
It says the vast majority of Help To Buy purchases have been made in Conservative constituencies - some with slim majorities.
New cancer tactic
The Sunday Express says breathalysers that can detect deadly cancers are set to be available in GP surgeries within a few years.
Government-funded trials involving thousands of patients are said to be under way, and oncologists tell the Express they are excited about the results so far.
In an editorial, the paper applauds the steps being taken, saying anything that gives hope in the battle against cancer is to be welcomed with open arms.
'Insult to victims'
The Mail on Sunday eviscerates Norfolk Police for reportedly using a computer to determine whether burglaries should be investigated.
The paper says that, instead of doing any detailed detective work, officers are keying in basic facts about a crime scene and closing the case if the programme decides there is little chance of the burglary being solved.
It says it is a "shocking insult to victims" and an experiment that any thinking human would know is not good enough.
Get news from the BBC in your inbox, each weekday morning