Newspaper headlines: Voters 'back Boris' over burka comments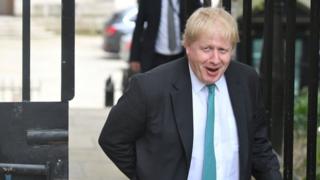 Boris Johnson's comments about the Muslim burka continue to divide opinion and dominate many of the Sunday newspapers.
"Don't go the full Trump, Boris," Mr Johnson is urged in a Mail on Sunday article by former deputy prime minister Damian Green.
Mr Green writes that the former foreign secretary "must remain immune to the siren voices of the alt-right", adding he was "particularly concerned" by reports that Mr Johnson has been in touch with President Trump's former chief strategist, Steve Bannon.
According to the Sunday Mirror's political editor, "puppeteer" Mr Bannon is "pulling BoJo's strings" to turn Britain towards the far-right.
Mr Bannon himself has given an interview with the Sunday Times. He refuses to comment on the reports of contact with Mr Johnson but says he "must not bow at the altar of political correctness by apologising".
Mr Bannon adds: "Boris doesn't need to ape Trump; he needs to be himself - in the digital age authenticity is all."
According to the Sunday Times, the cabinet is "at war" over the "burqa furore".
The paper says it has spoken to four ministers who support Mr Johnson and criticise their own party leadership. One minister apparently said "there is not a serious political brain in Downing Street", the paper says.
The Sunday Express reports that Mr Johnson is backed by the majority of voters.
It reports the results of a ComRes poll suggesting 53% of respondents believe the former foreign secretary should not be punished for his remarks and 60% believe free speech is under threat.
Commenting on the poll in the newspaper, Sir John Curtice, professor of politics at Strathclyde University, says any attempt to discipline Mr Johnson "could upset many of the people that Theresa May needs to keep on board as she attempts to hang on to the keys of 10 Downing Street".
According to the Observer's leader, Mr Johnson is acting in a way which is "dangerous and divisive", deliberately using language that "panders to prejudice".
The newspaper says: "The need for an investigation into Islamophobia, overt and covert, within Tory ranks is undeniable."
A column by Keir Mudie in the Sunday People agrees that such an investigation is "long overdue".
And writing in the Sunday Mirror, Saira Khan wonders why Mr Johnson spoke on the subject when the burka is worn by just 0.01% of UK Muslims.
"If you want the support of racists and Islamophobes," she writes, "just be honest about it - don't hide your intentions behind the veil of free speech".
But there is support for Boris Johnson's point of view from the Sun on Sunday's Tony Parsons, who says he "shudders" when he sees women or girls showing nothing but their eyes.
"The burqa," he says, "is a hostile symbol of separation from everything I believe in and everything my country stand for".
'Brexit shift'
Meanwhile, the Observer leads on an analysis of polling results which concludes that more than 100 Westminster constituencies that voted to leave the EU now support Remain.
Researchers at the Focaldata consumer analytics company apparently modelled two YouGov polls of more than 15,000 people in total, conducted before and after Theresa May published her proposed Brexit deal on 6 July.
The newspaper says it means most constituencies in Britain now want to remain in the EU, adding that the the shift has been driven by doubts among Labour voters who backed Leave.
Get news from the BBC in your inbox, each weekday morning
The US ambassador to London, Woody Johnson, has written an article for the Sunday Telegraph in which he challenges Britain to abandon its European neighbours who still want a trade deal with Iran and join forces with Washington to enforce President Trump's sanctions.
He also warns British companies to stop doing business with Iran or "face serious consequences" for their trade with the United States.
Meanwhile, there is a lament for the fate of the department store in the Sunday Times, as columnist Jenny McCartney admits feeling a pang on hearing that House of Fraser was being rescued by Mike Ashley, the billionaire owner of Sports Direct.
She labels Amazon "the great disruptor" while pointing out that department stores themselves were once the disruptors, crushing the fortunes of resentful small traders. But she wonders "what we are losing in our hunger to acquire goods ever faster and more cheaply".
The Sunday Mirror speaks of a "child obesity crisis", as its lead story highlights the case of a 10-year-old boy who weighs 17 stone.
Kyon Fritz Marriott, from south London, is thought to be Britain's heaviest primary school child and says: "I just want to be a normal 10-year-old. I just want help".
The paper suggests NHS cuts have prevented him from attending Britain's only residential weight loss camp, MoreLife, although he has now apparently been offered a place by MoreLife after the Mirror's intervention.
According to the Mirror, NHS England declined to comment but a hospital spokesperson said his family were told that weight loss at his age "could only be achieved by diet and exercise".