Newspaper headlines: 'No deal risks civil unrest' and 'pure evil'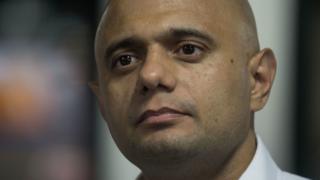 The Daily Telegraph says it has seen leaked documents revealing that Britain has secretly abandoned its blanket opposition to the death penalty to allow two notorious members of so-called Islamic State to be sent to the United States for trial.
The men, Alexanda Kotey and El Shafee Elsheikh, are being held by the US-backed Syrian Democratic Forces.
The men were part of a group which became known as the "Beatles" because of their British accents heard on videos of beheadings.
The Telegraph says Home Secretary Sajid Javid has agreed to hand over intelligence to help enable the men to be prosecuted in America - and that the UK government also has no objection to them being sent to Guantanamo Bay without trial.
The Guardian says it has been told by whistleblowers that the government's new welfare system, Universal Credit, is "fundamentally flawed".
Service centre workers say it is so riddled with design flaws and process faults that it is "practically guaranteed" to generate mistakes and delays that push vulnerable benefit claimants into hardship.
The Department for Work and Pensions tells the paper the system is being constantly improved and 83% of claimants are satisfied.
According to the Times, the head of Amazon in the UK, Doug Gurr, has predicted there could be civil unrest within two weeks if Britain leaves the EU without a deal.
The paper says he made the forecast at a meeting on Friday organised by Brexit Secretary Dominc Raab. Amazon has declined to confirm or deny the report.
The i claims there might be no checks on food safety after Brexit, with imports being waved through to avoid huge tailbacks on motorways.
The acid attack on a three-year-old boy in Worcester is the main news on some front pages. The Daily Express describes it as "pure evil".
The Sun shows a picture of three suspects from CCTV footage released by the police and appeals for help in finding the "acid fiends".
According to the Daily Mirror, 33,000 people in the UK are now among the "working homeless" - sleeping rough despite holding down a job.
The paper says it has found chefs, engineers, construction workers and security staff living in doorways, tents, cars and vans, battling to get enough sleep and to keep themselves presentable enough for work.
It says they are victims of two of the biggest policy failures of the past decade: low wages and a housing crisis.
French papers are demanding answers in a growing controversy surrounding one of President Emmanuel Macron's bodyguards, who has been charged with attacking a demonstrator during May Day protests in Paris.
La Croix says Alexandre Benalla had only limited experience in private security - yet was ubiquitous during the president's public and private travels. It says he had been involved in previous altercations, including with police officers.
La Figaro says Mr Macron has yet to comment publicly on the "gravest political crisis" he has faced.
The headline in Liberation says simply "the Benalla affair - no word from Macron".
According to Le Monde, Mr Macron told a crisis meeting at the Elysee Palace last night that there would be "no impunity" for the bodyguard and four other people also facing charges.
Get news from the BBC in your inbox, each weekday morning