Paper headlines: 'Shameless Boris' and May 'clings to power'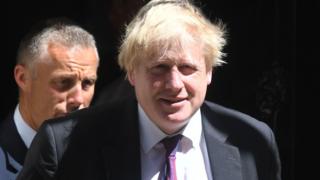 Many of the front page headlines feature Boris Johnson's warning in his resignation letter that the Brexit "dream is dying".
The Daily Express says he delivered a damning verdict, leaving the prime minister reeling.
The Daily Telegraph believes Mr Johnson plunged her leadership into crisis - and inflicted a brutal blow to her authority.
The Guardian sees the prospect of Tory MPs holding a vote of confidence as clearly real, but believes she has faced down the rebels - for now. The Daily Mail reports that Downing Street is braced for a leadership contest.
The Daily Mirror accuses Boris Johnson of declaring war on Mrs May, and tells how he is being tipped to launch a leadership bid.
But the website, Huffpost UK, is doubtful about his chances, saying his popularity has plunged among the public, Conservative members, and crucially among the party's MPs - meaning he lacks the support needed to get onto the ballot paper for a leadership contest.
The Daily Mail describes the new Foreign Secretary, Jeremy Hunt, as one of the safest pair of hands in Westminster. It says his promotion catapults him into a prime position to one day realise his ambition to become Prime Minister.
The Times - which calls the former health secretary the great Conservative survivor - suggests that if he handles his new role dextrously he could find himself a contender for the top job.
Get news from the BBC in your inbox, each weekday morning
The Mirror reports that health officials sent out a warning about fears of more Novichok outbreaks just days before the nerve agent killed Dawn Sturgess in Wiltshire. Doctors in several counties in southern England were briefed about how to treat victims.
The Times describes Ms Sturgess's death as an unconscionable act of murder - and says Russia must say what it knows.