Newspaper headlines: 'Fantastic Brexit' and 'bog roll Brexit'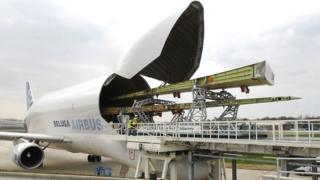 The Financial Times says other senior business executives have joined Airbus in voicing concern about a no-deal Brexit.
The car parts supplier, Unipart, is quoted warning that "busloads of jobs" could "disappear into Europe" and the head of the UK arm of Siemens says the firm would take "different investment decisions" in a no-deal scenario.
In its editorial, the paper urges more companies to speak up about their concerns. "By failing to warn voters and workers about the problems ahead, business leaders are falling short of their obligations," it says.
Get news from the BBC in your inbox, each weekday morning
A more upbeat picture is painted by two of the cabinet's leading Brexiteers. Writing in the Daily Telegraph, Brexit Minister David Davis says the UK is facing "a bright, new future... taking advantage of its destiny as the world's great free-trading nation". In an interview with the Daily Express, he predicts that in 10 years time, "we'll look back and wonder why anyone ever doubted Brexit".
Writing in the Sun, Foreign Secretary Boris Johnson rejects the idea of what he calls a "hopeless compromise" deal, which he compares to a roll of toilet paper - soft and going on forever. The headline reads, "Say no to Andrexit".
The online edition of the Spectator weighs up President Trump's immigration policies against those of the EU - concluding that Europe's approach is "ultimately far crueller".
It argues that the European policy of allowing migrants to be granted asylum in whatever country they arrive has encouraged them to risk their lives by crossing the Mediterranean. The humane answer, the magazine suggests, is to move the asylum system closer to the refugees' homeland, from where they could be taken to Europe in safety.
The Times claims police allowed a 13-year-old boy to spent two hours in the home of a known paedophile and gangster - because they didn't want to jeopardise a covert operation.
The paper says officers were conducting surveillance of Dominic Noonan - one of Manchester's leading gangland figures - when they saw the boy enter his home. It reports that senior staff at Greater Manchester Police advised them not to directly intervene, but instead to send a local uniformed officer to the flat on the pretence that a member of the public called. One officer tells the paper he has been "haunted" by his failure to intervene. The force has declined to comment on the article.
Several papers report on a suggestion from Sir John Major that Margaret Thatcher's criticism of him after she left office was caused by dementia. The Daily Mail recalls how Lady Thatcher would "snipe" at her successor and "hound him" with phone calls in which she accused him of "tearing up her legacy". But the paper says Sir John told a political festival yesterday that he was able to bear it because he believed she was ill. "She didn't sound like the Margaret I had come to know."
The Guardian says internet addicts are to be treated on the NHS. The paper says a centre is to be set up in north London - initially focusing on gaming disorders, before expanding its work. It notes that the move comes after the World Health Organisation classified gaming disorder as a mental health condition.
There is much anticipation about England's World Cup match against Panama tomorrow. The Daily Mirror offers a sobering comparison of the pay packets handed out to the two sides. It reports that some members of the Panama squad earn £250 a week. In comparison, England midfielder Raheem Sterling gets paid about £180,000 a week. One Panama international said: "Players here can make more money if they leave to become builders or bricklayers".