Newspaper headlines: Poisoning suspects and Windrush latest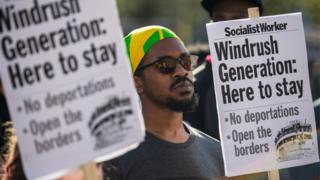 Saturday's papers continue to highlight cases of mistreatment of people from the Windrush generation.
The Daily Mirror leads on one such case - a woman stuck in Jamaica since 2009 after she was blocked from returning to Britain, where she had lived for almost six decades.
According to the paper, Gretel Gocan - who is now 81 - had gone to the Caribbean for a funeral, but as she tried to board her flight back, she was told her passport did not have the correct documentation.
She tells the paper that the UK has "turned its back" on her.
The revelation that thousands of landing cards covering the Windrush era were destroyed caused a political furore during the week.
But the Financial Times says the arrival records of tens of thousands of immigrants who came to the UK before 1960 are in the National Archives - strengthening cases for some of those struggling to prove citizenship.
It says ledgers kept by the Board of Trade contain the personal details of all passenger arrivals at British ports from the late 19th century until 1960.
Deportation 'teeth'
For its lead, the Guardian says it has obtained a leaked private letter in which Home Secretary Amber Rudd boasts to the prime minister that she would give immigration officials greater "teeth" to hunt down and deport thousands more illegal migrants.
It says the four-page memo, written in January last year, promises Theresa May that she would oversee the forced or voluntary departure of 10% more people than Mrs May had managed when she was home secretary.
Ms Rudd's record at the department comes under scrutiny after what the Daily Express calls a dismal week for her in the wake of the Windrush scandal.
James Forsyth in the Sun says she has been too unquestioning of what Mrs May did at the Home Office before she became PM.
Aware of how proud Mrs May is of her record there, Ms Rudd has felt unable to make big changes, he adds.
The Spectator website says some of Ms Rudd's own allies are growing a little frustrated that she is not getting on with making her own mark on the department, rather than meekly following her predecessor's lead.
Suspects in Russia
According to the Daily Telegraph's main story, police and intelligence agencies have identified key suspects in the attempted murders of Sergei Skripal and his daughter Yulia in Salisbury.
The paper says it is thought a search of flight manifests in and out of the UK has yielded specific names, and police have also drawn on CCTV footage and car number plate recognition cameras.
But the paper adds that counter-terrorism police will hit a diplomatic brick wall in trying to interview, let alone prosecute, the suspects, who are now believed to be in Russia.
Arsene Wenger's impact on English football during his 22-year career at Arsenal is widely discussed in pull-out supplements, leader columns and the sports pages.
The Guardian says that when he arrived at the club with a spotty playing record and strange ideas about diet, players and fans were suspicious.
Yet, Wenger and his ideas now seem part of the footballing furniture.
The Sun says he did not just transform Arsenal, but he changed the whole outlook and future of English football.
For the Daily Express, an extraordinary revolutionary era has come to an end.
Get news from the BBC in your inbox, each weekday morning