Newspaper headlines: Dale Winton tributes and 'war on plastic'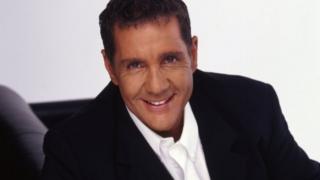 There are tributes to Dale Winton on many of the front pages.
The Sun calls him a "telly favourite"; the Daily Star speaks of "shock" at the death of "a TV legend".
To the Daily Express, he was "TV's Mr Nice Guy".
But it is the Windrush affair that continues to dominate.
"Twist and turn as she might," says the Daily Mirror, "Theresa May cannot shake off responsibility for the persecution of Windrush-era Brits from the Caribbean."
According to the Guardian, the prime minister's attempts to quell the crisis ended in failure on Wednesday, amid chaos, confusion and recriminations.
However, the paper's sketchwriter, John Crace, was also unimpressed by Jeremy Corbyn's performance at Prime Minister's Questions, accusing him of "fighting mediocrity with mediocrity".
Patrick Kidd in the Times says Mr Corbyn committed the cardinal sin of asking a factual question to which he was not sure of the answer: when he asked Mrs May who had authorised the destruction of landing cards, she was able to reply that the decision was taken under a Labour government.
According to Mr Kidd, the Labour leader looked like he had been mis-cast - like Ozzy Osbourne playing Hamlet.
In the Daily Mail's assessment, Mr Corbyn "turned a bad day for the government over the Windrush scandal into a disastrous day for himself".
The Guardian keeps up the pressure, highlighting the "anger and horror" of Sentina Bristol whose 57-year-old son, Dexter, died suddenly last month after he was classified as an illegal immigrant, losing his job and being denied benefits.
They came to Britain from Grenada in 1968.
The Daily Mail quotes her calling for Theresa May's resignation.
The Sun notes that it is 12 years since the then Labour Home Secretary John Reid declared that the Home Office was "not fit for purpose".
The department has been marked by complacency and incompetence for years, the paper says, and if Amber Rudd does not get a grip she could undermine the whole Brexit process.
The Anglo-Dutch firm, Unilever, is facing a growing rebellion by some of its biggest investors over plans to move its HQ to Rotterdam, according to the Financial Times.
They're said to fear the effect on share prices of probable exclusion from the FTSE 100 index.
The move needs support from 50% of Dutch shareholders and 75% of British shareholders.
Unilever says it is "highly confident of achieving the required level of shareholder support" and that it is "engaging extensively with Unilever shareholders on our proposal".
It has launched what the paper calls a "charm offensive" to win support from shareholders, but a senior figure at one fund says the asset manager is "unlikely to be swayed".
Get news from the BBC in your inbox, each weekday morning
Boris Johnson has warned against "going soft" on knife crime, in an interview with the Daily Telegraph.
The foreign secretary calls for an increased use of stop-and-search powers, saying the police have to "come down like a ton of bricks" on gang leaders.
The paper says his intervention comes amid growing fears among Tories over a rise in violent crime, particularly in London.
The lead in the Times claims buyers of Bovis homes are "in despair" over faults at their poorly built new properties.
The paper carried out an investigation with the help of a whistleblower.
It claims buyers are being misled and essential repairs are being deliberately delayed.
In an editorial, it criticises Bovis for telling shareholders that it aims to double its profit margin by 2020.
It would do better to shelve all dividends, the paper says, until its customers are satisfied.
Bovis tells the paper it is very concerned to hear a small number of people continue to be unhappy, adding that complaints have fallen and customer satisfaction has improved.
The Daily Mirror's lead is billed as a "royal wedding exclusive".
In what it describes as a "bombshell interview", Meghan Markle's half-brother, Thomas Markle Junior, makes a series of unflattering remarks about the royal bride-to-be and complains that three attempts to get in touch with her via Buckingham Palace have been ignored.
Finally, the Daily Mail reports on the exasperated response of a Lancashire farmer after neighbours complained to the council about noise from his free-range hens.
Stephen Nolan, whose family have owned Laneside Farm in Higher Wheelton since the 1930s, has put up a large sign outside which reads: "Notice: This property is a farm. Farms have animals. Animals make funny sounds, smell bad and have sex outdoors. Unless you can tolerate the above, don't buy a property next to a farm."