Newspaper headlines: 'Get ready Russia', warns Trump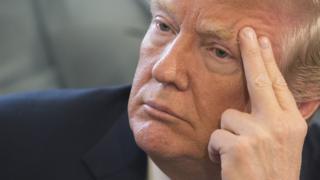 Donald Trump is pictured on most of Thursday's papers as the prospect of military action in Syria dominates the front pages.
The Guardian is one of several to highlight what it calls his "incendiary tweet", telling Russia to "get ready" for US missiles in Syria and referring to President Assad as a "gas killing animal".
Julian Borger's analysis for the paper calls the Trump twitterstorm a "frighteningly clear illustration of how wars can start by miscalculation".
The Daily Express simply asks whether we are "One Tweet from War?".
The Times puts the focus on Theresa May, saying she has cleared the way for Britain to join a US-led military attack on President Assad's regime, and expects her to defy Jeremy Corbyn's call for a vote in parliament.
The paper says Britain's military airbase in Cyprus could be at risk of Russian retaliation if any missiles are launched from there.
The Daily Mail headline is "May's Great Gamble", as the paper claims that UK submarines have been ordered to move within missile range of Syria.
Facebook furore
The US papers are picking over the two days of testimony by Facebook founder Mark Zuckerberg.
The Washington Post says the five-hour hearing before the House energy and commerce committee on Wednesday was a "tougher, tenser grilling" than the previous day's marathon session in the Senate.
It says politicians attacked the billionaire on user privacy and Russian propaganda, and repeatedly interrupted him.
The New York Times says there was widespread consensus that social media technology had potential for abuse, but there was no agreement on what could be done about it.
The Daily Mirror is one of several papers carrying a shocking picture of 80-year-old John Williams, hooked up to monitors in the back of an ambulance.
His son says the Swansea pensioner died after waiting for 23 hours for help to arrive and another seven hours in the vehicle waiting to be treated after a fall.
The paper says there have been extensive delays in handing over patients.
The Welsh Ambulance service has promised a full investigation.
Shrine wars
"Fear and Loathing in Hither Green" is how the Daily Telegraph sums up the continuing stand-off between residents in south London and the gypsy family of a suspected burglar who was stabbed to death by a pensioner.
Floral tributes to Henry Vincent have been torn down several times in what the paper calls a "clash of cultures".
The Daily Mail is unhappy that police have asked for the flowers to be respected and asks "whose side are they on?"
In an opinion piece, Robert Hardman calls the display a "tawdry attempt to erect a shrine to a monster", and says it is less a "war of the roses" and more a "war of the cheap garage flowers".
BBC sports presenter Mike Bushell gets plenty of ribbing after falling into a swimming pool live on air at the Commonwealth Games.
The Sun says things were going "swimmingly" as he began some poolside interviews - until he missed a step and found himself "in deep water".
The Daily Express says things went from bad to worse as the water cut off his microphone.
But the paper declares him a "splash-hit".