Newspaper headlines: Jewish groups 'goaded' and 'spies' sent home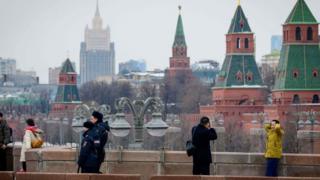 The mass expulsion of Russian diplomats is the lead for most newspapers.
"World unites against Russia", is the headline in the Daily Express, and The Daily Mirror has: "Putin the pariah".
The Daily Telegraph says the unprecedented show of solidarity outstripped even Downing Street's expectations.
The Independent website says some of the countries, like the Baltic States and Poland, were expected to show their traditional antipathy towards Russia - but the actions of Germany, France and Italy demonstrate the level of disquiet over the Salisbury poisonings.
Get news from the BBC in your inbox, each weekday morning
What is particularly pleasing to the government, according to the Spectator, is that Whitehall suspects one of President Putin's motives for the attack was to test Britain's standing in the world post-Brexit.
Would the UK's European Union allies still stick with a Britain that had rejected them at the polls? The answer, it says, is a loud and clear yes.
The i attributes this to what it calls Theresa May's "patient diplomacy".
It says she can allow herself a small pat on the back for the remarkable achievement of lining up much of the West behind Britain.
The demonstration outside Parliament by Jewish groups who accuse Jeremy Corbyn of failing to tackle anti-Semitism in the Labour Party is the other big story - providing the lead for The Times and The Mail.
The Mail says Parliament Square has seen some extraordinary protests - but surely none like the one by Britain's Jewish community.
The sight of so many MPs from both sides of the Commons showing their support for the protesters was remarkable, it adds.
The New Statesman says it spotted more than 30 Labour MPs in the crowd.
The Jewish Chronicle reports that the turnout included a broad section of the community - who responded to the call for protest at only 24 hours' notice.
Wedding hoot
Several papers report the antics of a barn owl hired as the ring-bearer at a wedding at Peckforton Castle in Cheshire.
The Telegraph says it swept majestically down the aisle, to a collective gasp of delight by the friends and family of Jeni Arrowsmith and Mark Wood - and landed as intended on the outstretched arm of the best man.
But as he struggled to unclip the rings from its claw, the second of the three best men outstretched his arm - and the owl launched itself in his direction, flying in his face.
According to the Mail, the owl then perched on the register table, glowering at the congregation.
The new Mrs Wood tells the paper the whole thing was "absolutely hilarious" and gave the couple great memories of their special day.