Newspaper headlines: Trump's 'nuclear gamble' no 'win for Kim'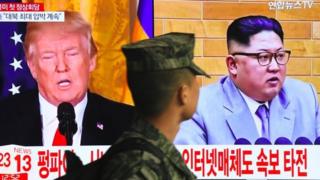 There was, as the Daily Express says, global astonishment at the announcement of a summit between President Trump and the North Korean leader, Kim Jong-un.
As the Sun reminds its readers, the pair had traded insults for more than a year. Yet quite suddenly - the Times reports - there appears to be the possibility of rapprochement between the two.
For the i newspaper, the meeting will be an extraordinary moment of geopolitical theatre that could lead to breakthrough or prove to be a gross blunder. Has Mr Trump pulled off the biggest diplomatic coup by a US President since Richard Nixon's visit with Chairman Mao? the Daily Mirror asks.
So what prompted Little Rocket Man to offer his invitation, and why did the Dotard take it, the Korea Times in South Korea wonders - references there to the insults the US and North Korean leaders have traded against each other.
The Financial Times says Mr Trump is betting he can end Washington's record of failure in dealing with Pyongyang's nuclear ambitions over a quarter of a century.
The police investigation into the attempted murders of the former Russian intelligence officer, Sergei Skripal, and his daughter, Yulia, continues to get extensive coverage.
Several papers report that the nerve agent used to poison them may have been concealed in a package.
According to the Daily Telegraph, counter-terrorism police are investigating whether Miss Skripal inadvertently brought a gift for her father from Moscow, planted by Russian intelligence in her baggage. The Mirror says the package would have released the chemical in Mr Skripal's home at a set time.
Get news from the BBC in your inbox, each weekday morning
The Daily Mail reports that motorists in England face steep rises in parking charges to plug holes in council budgets. It claims car park spaces and residents' permits will cost up to 45% more.
Some town halls are bringing in fees on Sundays to catch shoppers and churchgoers, the paper adds.
Happy 'Mom' day
And as the last-minute dash to buy Mothers Day cards reaches its peak today, don't be surprised if some of them feature the Americanised spelling - Mom.
The Telegraph reports that the retailer Paperchase is breaking new ground this year by selling cards with the term "Mom" alongside its traditional "mother" and "Mum" selections.
It's a development that the paper's leader column regrets. It blames the influence of American TV programmes such as The Simpsons. The paper wonders whether children will be sending cards to "Pop" on Fathers Day.