Newspaper headlines: 'Snow storm chaos' and prospect of hard Irish border raised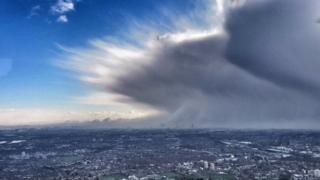 Snow - and the clouds that bring it - give a compelling quality to landscape photography that is not lost on newspaper picture editors.
The Guardian has a brooding view of Staithes on the North Yorkshire coast.
"Rage of the beast" is the caption that the Daily Mirror gives to the most commonly-used image - one that shows a panorama of London, half of it under a blue sky, the other half threatened by a vast malevolent snow-laden cloud.
The Times prefers a view of the Southend seafront and two young women trudging through snowfall.
"Promenading," says the paper, "proved less than relaxing."
By contrast, on the front of the Daily Telegraph, two girls and a boy celebrate the pleasures of the season - tobogganing past a windmill in West Sussex.
And the Daily Mail revels in the comedy of human response, reporting that one headmaster banned children at his school in east London from even touching the snow.
A cartoon in the Financial Times shows a well-wrapped couple, in snow-covered countryside.
One says: "I'm pretty sure the Irish border is around here somewhere."
Others also think an almighty row about that with the EU is on the cards.
The Times thinks the EU will insist that Northern Ireland, at least, stays in a customs union.
The i suggests there are up to 15 Tory MPs prepared to vote against the prime minister on the issue.
Get news from the BBC in your inbox, each weekday morning
On World Rare Disease Day, former prime minister David Cameron writes in the Times about the condition that killed his son, Ivan - and his hope that the science of genomics can transform the way we do medicine.
He argues that every child in paediatric intensive care should have a "simple yet vital genomics test," saying it is within our grasp to beat the disease that took the life of his six-year-old son.
It may not be the weather to talk about ice-cream, but that does not stop the Daily Express from celebrating the life's work of Frank Penna.
He began selling ices in Hull at the age of 14, and he's still going, at 82.
The paper calls him the "King of the Cornets."
Mr Penna reckons he's handed over three million - every one of them vanilla-flavoured.