Newspaper headlines: 'Hate-filled killer' and call to cut NHS payouts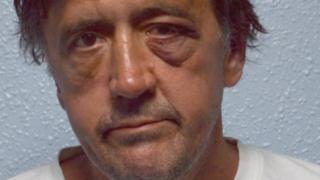 The conviction of Darren Osborne, who drove a van into Muslim worshippers outside a mosque in Finsbury Park, north London, killing one man and wounding other people, is reported on several front pages.
The Sun calls him "twisted" while the headline in Metro references the police statement describing the 48-year-old as "devious and hate filled".
The coverage in the Guardian, Times and Daily Telegraph focuses on Scotland Yard's warning about the influence of far-right material online.
An editorial piece in the Daily Mirror argues that the case is a "deadly warning that Britain's far-right killers share an evil ideology with Islamist jihadis".
It urges social media companies to "stop offering pulpits" to all preachers of hate, whatever their religious background.
The Times leads with what it says is evidence of the NHS being overcharged for what are known as "specials" - non-standard items required to treat some patients.
The paper says it has seen records which show that a firm in 2016, then owned by the parent company of chemist Boots, charged the NHS more than £1,500 for a tub of moisturising cream.
The Times alleges that the same tubs were sold by other suppliers for less than £2 and goes on to list similar examples involving different manufacturers.
The parent company of Boots is quoted saying that it "categorically" denies overcharging and regularly reviews prices of specials to ensure they are competitive.
Get news from the BBC in your inbox, each weekday morning
There is a report in the Daily Telegraph about new research that could result in changes to "one of the established traditions" of horse racing.
Scientists have found that horses are unable to see the colour orange, which is used to paint the cross-bars of jump hurdles.
The paper says work is now under way to discover the colours that best stand out to the animals.
It says the study, by a team from Exeter University, could lead to changes in other equestrian sports, such as show jumping.
'The force'
As Amazon reveals a large rise in revenues, the technology website Wired examines possible reasons for the online retailer's success.
It suggests that a major factor has been its investment in artificial intelligence since 2014.
The result, according to Wired, is that "Amazon is smarter at suggesting what you should read next, and what items you should add to your shopping list."
An industry expert is quoted saying the firm is "becoming a force, maybe the force" in the field of AI.
The headline on the lead in the Sun is "Who cares wins".
It tells the story of an SAS veteran who has been given a permanent home by Hertfordshire Council, after 400,000 readers signed a petition.
The paper explains that Bob Curry, who helped rescue hostages during the Iranian Embassy siege in 1980, ended up homeless after his business collapsed.
The Sun suggests that, until it intervened, Mr Curry's application had been held up by "months of wrangling over paperwork".
Dog bite survey
Finally, the Guardian is among several papers to report that being anxious, or male, makes you more likely to be bitten by a dog.
A survey of 700 people found that men were 80% percent more likely to be attacked, and owners who described themselves as calm were bitten less frequently.
The Daily Mail's headline is: "Dogs can sense fear and it may make them bite you".
The i provides some encouragement - pointing out that only about 0.6% of reported bites required hospital treatment.