Newspaper headlines: Paltrow and Jolie accuse Weinstein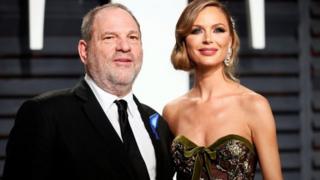 With allegations of rape and sexual harassment swirling around Harvey Weinstein, it is - the Daily Mail says - Hollywood's darkest day. How did the Monster of Tinseltown get away with it for so long, it asks.
Accounts by Gwyneth Paltrow and Angelina Jolie in the New York Times that they were sexually harassed by the film producer are reported on most of the front pages.
The Guardian says the stories appear to illustrate a pattern of behaviour by Mr Weinstein that carried on for decades.
The New York Times - which has been chronicling the claims against Mr Weinstein - says his alleged behaviour was something of an open secret in Hollywood.
More established actresses were fearful of speaking out because they had work; less established ones were scared because they did not.
A statement by Mr Weinstein's spokeswoman says he unequivocally denies any allegations of non-consensual sex.
The Times leads on Chancellor Philip Hammond's article for the paper, in which he says it would be irresponsible to spend taxpayers' money now in preparation for a "no-deal" Brexit.
The paper says Mr Hammond supports contingency planning in case the "divorce" talks collapse, but with money tight and the government trying to secure a deal, he's reluctant to approve spending unless the danger is imminent.
Get news from the BBC in your inbox, each weekday morning
Prime Minister Theresa May's refusal to say whether she would vote for Brexit if another EU referendum were held now, is widely reported - and is the Guardian's main story.
It says her refusal was seized upon by opposition parties as a sign that she's not fully committed to a Brexit she's promising to deliver.
The Sun describes it as alarming and says it sparked questions about whether she believed leaving the EU was the right course for the UK.
For the Daily Telegraph's sketch-writer, Michael Deacon, the person in charge of Brexit apparently still can't say she would actually vote for it. It was - he says - no less than a vote of no confidence in herself.
In the Spectator's judgement, refusing to give your wholehearted support to leaving doesn't exactly help the UK's position in the negotiations.
A survey has found that a third of children under five now own a tablet device. The Daily Mail reports that parents upgrading their own devices have been handing down their old ones to keep their children quiet.
Researchers who carried out the survey tell the paper: "Constant access to technology is here to stay - and pre-school children are keeping up with the pace."
A 'volcanic Vindaloo'
And the UK's hottest-ever ready meal has gone on sale - an Indian curry made with a chilli that is 200 times hotter than Tabasco sauce.
According to the Mirror, the Morrison's Volcanic Vindaloo comes with a rating of six chillies on its packaging - and will only be sold to over-16s.