Newspaper headlines: Referendum riots and 'Tory infighting'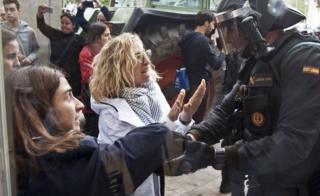 Several of the front pages have a picture of a Spanish policeman clad in armour brandishing a baton as he confronts protesters in Barcelona.
"Spain torn apart," says the headline in the Times, "as 850 are hurt in referendum riots".
The Financial Times warns that the vote threatens to trigger one of the gravest political and constitutional crises in Spain's 40-year old democracy.
For the Daily Telegraph, the clashes have "plunged the EU into a new crisis" - because of a failure by Brussels to criticise the Spanish government's violent response.
The Sun describes the scenes as "Helldorado".
Elsewhere, the i is among those reporting a backlash among senior Tories against Foreign Secretary Boris Johnson over his recent interventions in the Brexit debate. Some are said to have warned "nobody is unsackable".
The Daily Mail sounds of note of exasperation, with the headline: "What a time to be squabbling".
Nevertheless, according to the lead in the Daily Express, Theresa May is "winning the Brexit battle".
It highlights claims by the prime minister on Sunday's Andrew Marr show that a string of European leaders have personally praised plans for the UK's departure - laid out in her recent Florence speech.
Get news from the BBC in your inbox, each weekday morning
The Daily Mirror claims an exclusive with a report that the captain of a nuclear submarine has been relieved of his duties as military chiefs investigate an alleged inappropriate relationship with a female officer.
It believes senior naval officers have been sent to the vessel, in international waters, to sort things out.
The MoD confirmed an investigation was taking place but gave no details.
The Daily Mail reports a study suggesting half of all NHS dentists plan to leave the health service within five years.
A survey carried out by the British Dental Association found 58% want to go private, move overseas, retire or quit the profession.
NHS Engand tells the paper there are 3,800 more dentists offering NHS care than a decade ago, with no significant increase in the number leaving.
And finally, there are pictures all over the papers of Prince Harry apparently kissing Meghan Markle in public for the first time.
The Sun says it has "sparked a frenzy of engagement speculation".