Newspaper headlines: May targets young voters to see off 'coup'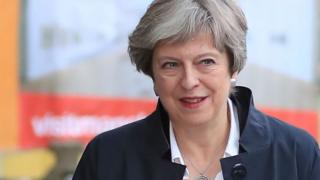 Theresa May features on many of the front pages ahead of the start of the Conservative Party conference. The Observer says knives are being sharpened as an increasingly desperate prime minister tries to shore up her flagging premiership with a raft of new policies.
The paper says there are growing signs that Cabinet discipline is breaking down - and support for Mrs May is draining away.
The Mail on Sunday says Mrs May has performed a huge policy U-turn to try to avert any coup against her, but it says she risks criticism that she's pursuing "Labour Lite" policies.
The prime minister tells the Sun on Sunday that she wants to build a better future for young people - a message she admits didn't get across well enough in the election campaign.
The paper says Mrs May has shown that she has started to listen.
But it warns that better orators and thinkers are waiting in the wings and, if the prime minister doesn't show more imagination, urgency and energy, her head will roll.
The Sunday Mirror accuses Mrs May of trying to bribe young voters after misunderstanding why they have flocked to Jeremy Corbyn.
The Sunday Times believes the prime minister needs to give the Conservatives something to lift their spirits. It says a house-building revolution should be her domestic priority.
The Sunday Telegraph urges a cut in house prices, by increasing supply and reducing, or abolishing, penalties such as stamp duty.
From a disappointing election result, the paper says, can be snatched an opportunity to revive Conservatism.
The Observer says ministers are under mounting pressure to halt their radical welfare changes.
The paper says senior Conservative MPs are privately voicing unease about the Universal Credit system - after the Scottish government called for a pause and the DUP raised serious concerns.
Get news from the BBC in your inbox, each weekday morning
The Mail on Sunday reports that hundreds of undercover police officers have received bills for up to £5,000 after a ruling that their vehicles should be taxed as company cars.
It says says that, to date, they have been taxed only on personal mileage, but they are now facing levies based on the vehicle's retail value and emissions.
The paper believes treatment of the officers is in contrast to that of police chiefs. It claims they have previously fitted blue lights to their executive cars to reduce tax bills.
Several papers look at the problems facing Monarch Airlines, after it was granted a 24-hour extension to sell package holidays.
The Sunday Telegraph says there are fears that the company, facing huge losses, could collapse.
The Sunday Times says officials are racing to put together a rescue plan for up to 100,000 holidaymakers.
The Sunday Telegraph reports that Ernest Hemingway scholars have found what they say is the earliest example of the author's fiction.
A water-stained notebook contains an account of an imaginary journey through Scotland and Ireland, said to have been written in meticulous detail - at the age of 10.