Paper headlines: Boris 'under fire' and hospital safety warning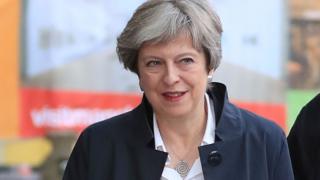 The Tory bid to win back younger voters, who flocked to Labour at the last general election, is the focus for many of the papers.
The Daily Express highlights Prime Minister Theresa May's pledge to renew the "social contract" - the understanding that the next generation should always have it better than the last.
The former Conservative cabinet minister, David Willetts, tells the Guardian his party risks permanently losing the support of younger voters, unless Theresa May tackles the challenges faced by the "squeezed generation".
In the Times, a young activist says the Tories must address issues like university fees.
The Daily Mail calls for a review of the use of social media during the election - describing it as an area where the Conservatives were "totally outgunned".
The Guardian reports that three of the UK's biggest supermarket chains have stopped deliveries of chicken from a factory in the West Midlands, amid allegations of poor hygiene and altered food safety records.
The Food Standards Agency has begun an inquiry, following an investigation by the paper and ITV News.
The company involved, the 2 Sisters Food Group, tells the Mail that food safety is its "number one priority".
The Times is among several papers to report that the Oxford college where Aung San Suu Kyi studied has removed her portrait from display.
The Guardian says it's a result of international criticism of her role in Myanmar's humanitarian crisis. St Hugh's College said a newly-donated painting would be exhibited and the portrait of Burma's de-facto leader had been moved to storage.
Get news from the BBC in your inbox, each weekday morning
Finally, the Daily Telegraph reveals the reason why some of the works of Marcel Proust received such rapturous reviews on publication - the great French novelist wrote some of them himself, secretly paying newspapers to print them.
It describes how, in one review, he hailed one of his novels as "a little masterpiece", with writing "almost too luminous for the eye".
But the Times suggests there has been a charitable reaction to this revelation of shameless self-promotion.
A professor of French literature says Proust - best known for recalling the childhood memories evoked by the smell of a madeleine - simply grasped, before anyone else, the importance of publicity and media relations.