Newspaper headlines: 'Terror strikes the heart of Barcelona'
By BBC News
Staff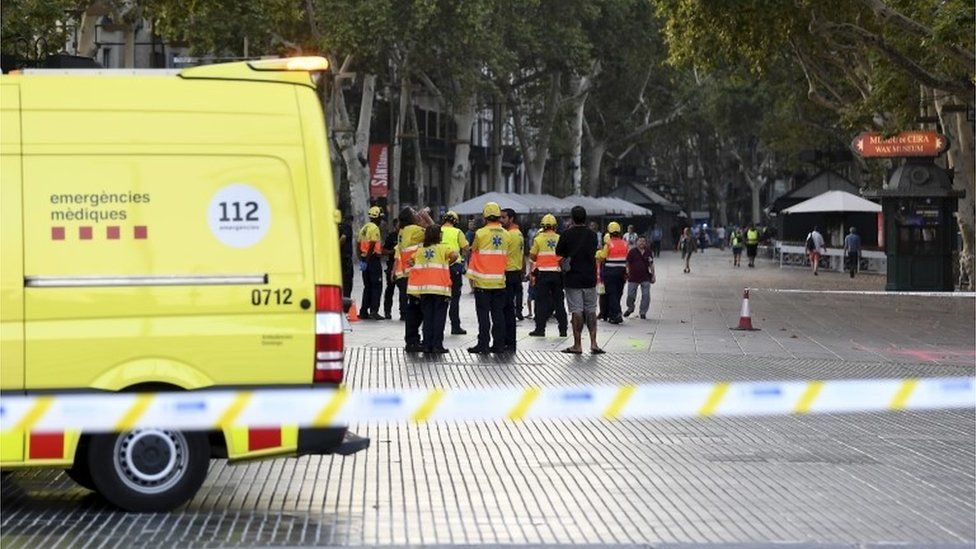 The papers are dominated by the Barcelona van attack in which 13 people died.
The Daily Mail, the Sun and the Daily Telegraph all use the same image on their front pages - of an injured man, holding his head and being helped by police officers.
It describes abandoned prams, toys and tourists' selfie sticks among the carnage.
Pictures on a double-page spread inside the paper capture the fear and panic on people's faces.
Its front page shows people lying in the street, with some of them pixelated because the images are too graphic.
Inside the paper it calls Las Ramblas "the street of blood and tears", and carries more powerful photos of people caught up in the violence and armed police sweeping the streets.
The paper calls Driss Oubakir a Muslim "party boy" who likes "dope, rap and booze" - but adds that he has denied any involvement.
Thursday's A-level results also get widespread coverage.
The news that boys got more top marks than girls for the first time in 17 years prompts the Mirror's headline "alpha males".
The paper's analysis says the results are the first product of "sweeping changes" by former Education Secretary Michael Gove and it broadly believes they are working to help restore the prestige of the A-level exam.
The Guardian argues that the government has given a low priority to alternatives to university education which is failing to meet the needs of the economy.
It concludes that Mr Gove's focus on the academic was "misdirected".
The Times and the Telegraph both feature the discovery of an 18th Century Dutch merchant ship off the Kent coast along with its lost crew.
The Times explains how the vessel, thought to have been carrying silver coins, was first located 20 years ago on Goodwin Sands but is now being excavated after concerns that it was being destroyed by shifting currents.
Marine archaeologist Mark Dunkley tells the paper: "It's so rare to find a crew on a shipwreck. It's like an underwater Pompeii".
It reports that the endangered white-letter hairstreak has been spotted in Berwickshire, just 100m from the English border.
It is apparently the first time it has been sighted in Scotland since 1884 - and it is thought that climate change may have helped it to become the 34th species to live and breed in the country.
Paul Kirkland, of Butterfly Conservation Scotland, tells the Guardian: "Climate change is a double-edged sword but it's an exciting time to be in the Scottish borders.
"It's not just butterflies but moths and dragonflies are moving north quite quickly."