Newspaper review: London fire - 'May takes cover'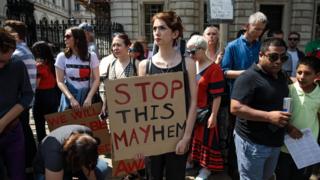 Theresa May was jeered by an angry crowd, and then hurried away by a heavy police guard, after she met survivors of the Grenfell Tower fire, the Times reports.
The paper notes the prime minister had faced criticism earlier in the week for failing to talk to local people when she visited the site of the disaster.
The Sun reports that crowds chanted "murderers" and "blood on your hands" as they marched through central London.
The Daily Mail says protestors marched to Downing Street and demanded "May must go" as they took to the streets to vent their fury. Hundreds stormed Kensington town hall during their demonstration, the paper reports.
The Guardian reports that the prime minister was "barracked" when she met residents of Grenfell Tower. The paper says demonstrators demanded more information about missing families and friends.
Anger "erupted" among residents of Grenfell Tower, the Daily Express reports. The paper notes that the prime minister has pledged to provide a £5m emergency fund for survivors of the tragedy.
The i paper reports that the prime minister was branded a "coward" by residents of Grenfell Tower. "Grief turns into fury" is the paper's front page headline.
Hundreds of angry demonstrators stormed council offices last night demanding "justice", the Daily Star reports.