Newspaper headlines: May's Brexit plan and SAS pose as homeless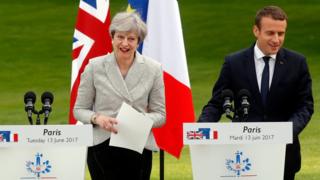 According to the Telegraph Theresa May has signalled she will not compromise over Brexit - despite growing demands for a change in approach following Thursday's election result.
The paper says the prime minister is determined to enter talks in Brussels with a threat that Britain is prepared to leave the EU without securing a trade deal.
It says Mrs May is determined to stick to her pre-election promise that the UK will leave the single market and negotiate free-trade partnerships around the world.
However, the Times says Chancellor Philip Hammond is urging a softer approach - believing that Britain has to remain within the customs union after Brexit.
The paper says Mr Hammond - who many had predicted would be sacked by Mrs May had she won a convincing majority - was in "street fighting mode".
It says he would seek support from the prime minister's old friend, ally and newly appointed deputy, Damian Green. But it warns that any move along this course is likely to infuriate the Tory right.
Speaking to the Guardian, shadow home secretary Diane Abbott, accuses the Conservative party of unleashing the most negative and vicious general election campaign in living memory.
In an interview in which she reveals that she has type two diabetes, Ms Abbott tells the paper that during the election campaign "everything went crazy and her blood sugar was out of control".
Get news from the BBC in your inbox, each weekday morning